Hi all,
I have been building a dc-dc buck converter for my project for months. The aim was to be able to produce a 5V, and a minimum output of 1A. (To charge smartphones)
I have been following closely to this build: /
https://www.instructables.com/id/DIY-BuckBoost-Converter-Flyback/
I was able to build out a prototype from the link above and using a simple resistive loads ranging from 330 to 43000 ohms I was able to tune the voltage to about 5volts.
Through this output I connect a usb connector for which I tried to charge an android phone (LG V10). There was indeed charging ongoing, however with the help of a usb doctor which shows the output current, I was only able to get 0.07-0.09 amperes of current.
I have consulted many of my friends and google as well.
The first solution was that the usb connectors has D- and D+ pins which also provides the exact current for to properly charge a smartphone.
https://electronics.stackexchange.c...ata-pins-d-and-d-on-a-usb-power-adapter-to-be
I followed the design of the apple charger (Previously charging an iphone directly doesn't work), and integrate the design to the buck boost converter at the output side as shown below, however I wasn't getting any charge notification at all from the iphone....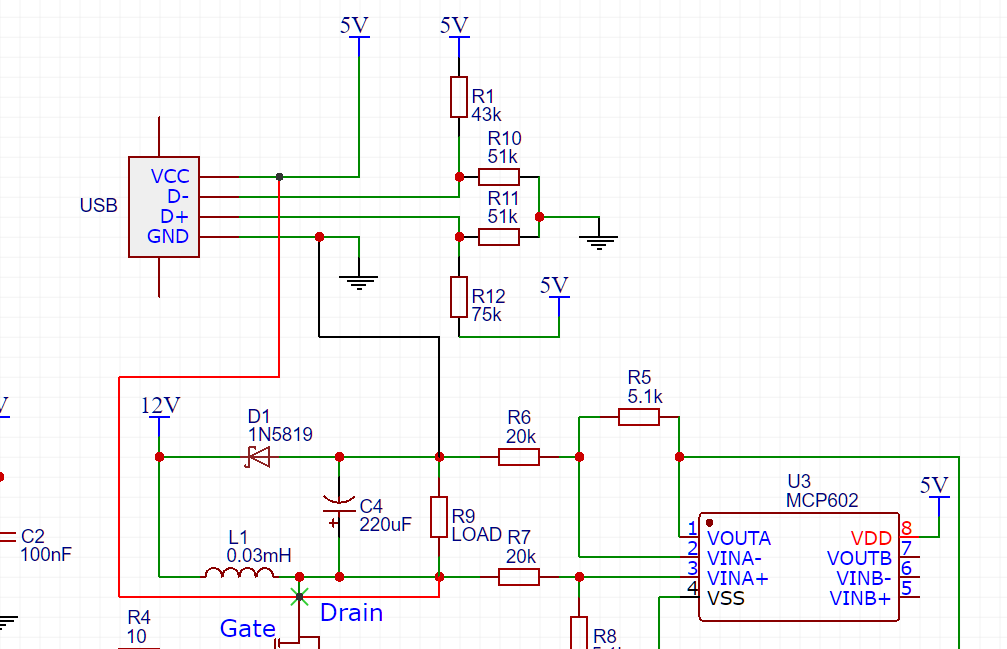 The second solution which that the comments suggested a voltage regulator with a higher output current. I tried hooking up with a output of 3A regulator but it didn't work as well.
Is there any solutions for me to make use of the 5V output to charge the smartphone at a current of 1A?
PS:
The internal specs given by the buck boost converter was : Input: 6V-30V Output: 0-20V Output Current: 1-2A