Hi,
I was reading up on quadrant switches and need your with some points.
I was using this text:
**broken link removed**
(or, use Google drive PDF:
https://drive.google.com/file/d/168CHus1Rzm4fCViEJdFnOA845f_R3PsN/view?usp=sharing
)
Question 1:
In Slide #8 it says that a BJT is single quadrant switch which can block positive off-state voltage. Does it mean a BJT cannot block negative voltage? The shown BJT is an NPN. In Slide #19 it shows how an NPN could function as a two quadrant switch. Doesn't it suggest that a NPN cannot block negative voltage on its own? Where am I going wrong?
Slide #8: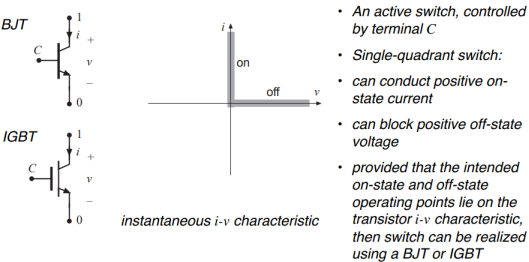 Slide #19:
(edited after rjenkinsgb post to substitute the correct slide; previously
this slide
was mistakenly used)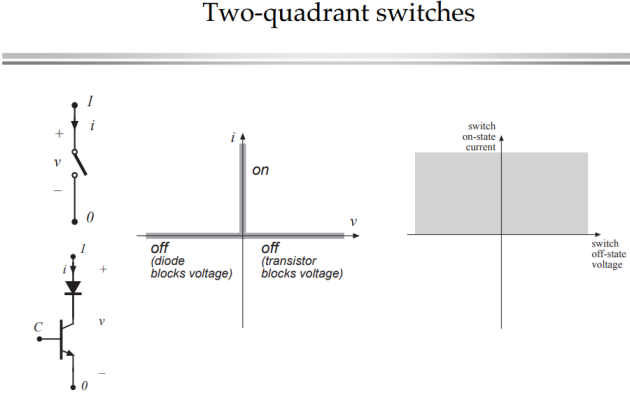 Question 2:
Yes, the body diode won't conduct but the diode in yellow would definitely conduct reverse current. So, what's the purpose of bypassing body diode?
Slide #14: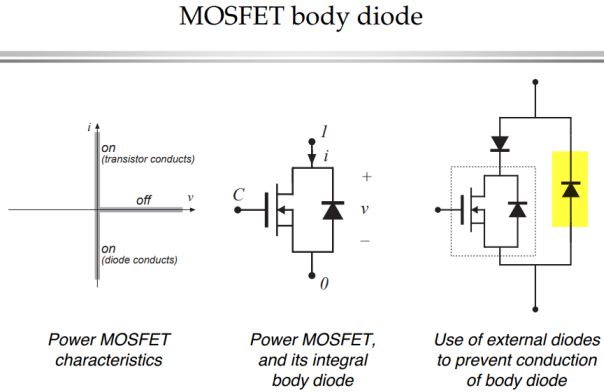 Note to self:
Slides related to quadrant switched end around slide #23.
Related video, possibly by the author of slides: watch?)v=GLdMUd27LtM (insert
www.youtube.com/
at the front)
Last edited: