I am building a Nixie clock and now have PCBs, 200V power supply, Pic as serial chips, a main pic and a DS1307 board as the actual timekeeper. Now debugging this lot is a nightmare and after spending two days checking and rechecking boards, code, I2C and serial communications (Definitely no Oxford comma!!). I finally found out where my problem lies (apt word). Here's a screenshot of XC8 which is paused in the debugger. The array NixieA should contain 128,2,16,1,64 then zeros, now look at the bottom, it contains 128,2,15,1,52. How can an array held in ROM get corrupted. Answer, it can't. After some investigation, it turns out that XC8 doesn't like leading zeroes. If you do var=016 then var will contain 15. How is anyone supposed to work with such bug ridden software.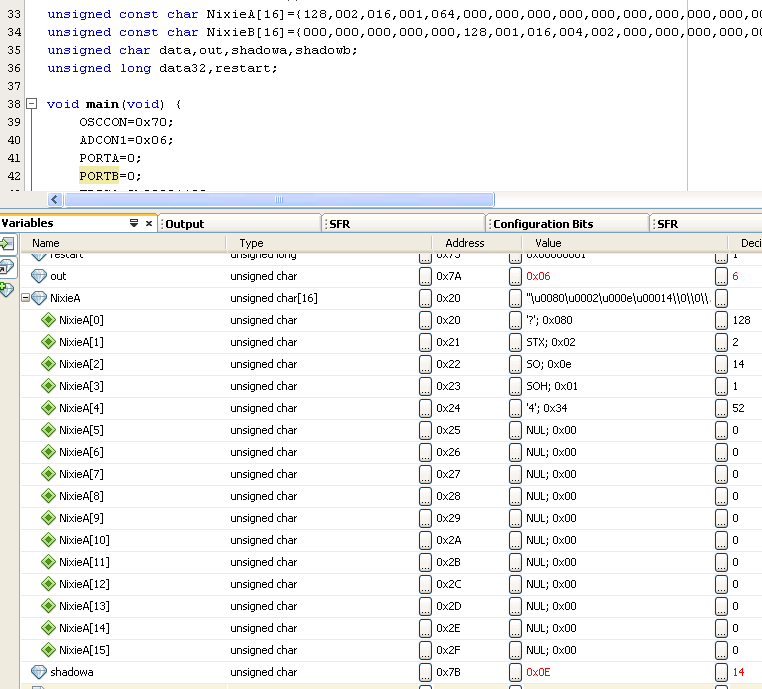 Thank you Microchip for wasting two days of my life. I despair,
Mike.
Edit, going for a few pints to calm down. I may be gone a while.
Last edited: