Hi,
I would like to add a bigger power stage to some of my stepper drivers that use ULN2803 as power driver for unipolar motors. Those drivers provide the logic feeding the ULN2803 with the full step sequence needed to run a small motor.
I have about 50 IRF9520 PNP Mosfets doing nothing so I would like to use a few of them for that purpose.
https://www.uib.es/depart/dfs/GTE/education/industrial/tec_analogiques/IRF9520.pdf
I already tested the schematic below on a breadBoard and it is working. How good, I can't say.
I am not familiar with PNP Mosfets but as I undrestand it, The ULN2803 will provide the Gate of the Mosfet with 0 volt (ground) or will be floating. With 0 volt, the mosfet will switch on. The resistor betwen gate and source is there to switch the mosfet off when 0 volt (ground) is not present. Leaving the gate floating is not possible.
Please correct me if I am not right about what I said above.
With these mosfets, I would like to drive an unipolar motor not exceding 2A per phase and at a maximum of 2 kHz, I mean that each mosfets would switch on and off a maximum of 2000 times per seconds (1 kHz would be fine too).
Is this design acceptable? If so, what would be the optimal value for the gate-source resistor?
Will the mosfet run fully on and fully off?
Would there be another way to achieve what I am looking for, using those mosfets?
Any help is quite welcome!
Thanks!
Alain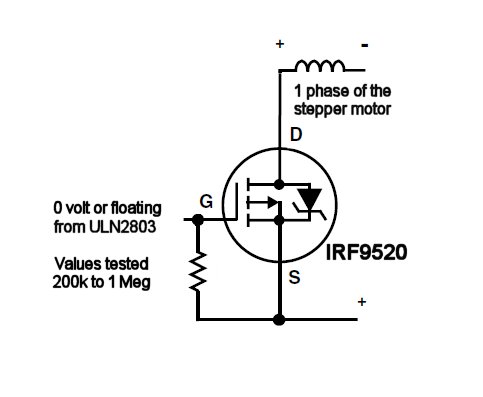 Last edited: