Issue 11 of 2017_01_10​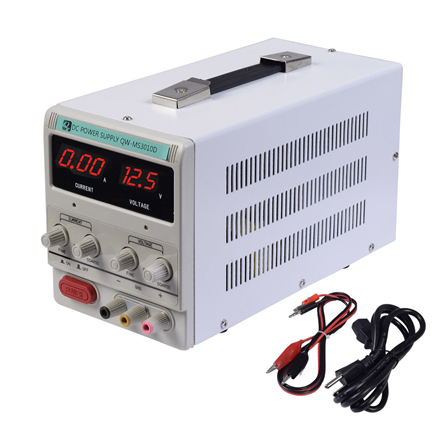 Work In Progress​
INTRODUCTION
Power supplies are ubiquitous. In fact, every piece of electronic equipment has a power supply of some sort: stabilized linear, stabilized switch-mode or simply a battery, solar cell, or generator. So, it is not surprising that there been great interest in power supplies on ETO.
Since mid 1980, switch-mode power supplies have been used more and more and, as of 2017, switch-mode power supplies predominate, except in low noise applications like audio power amplifiers and low-cost bench power supplies.
This article covers stabilized linear power supplies and outlines the basic theory, in practical terms, and gives some circuits from an elementary power supply to a bench power supply with precision voltage and current control.
None of the power supplies described are difficult to build and would be well within the capabilities of the average electronics home constructor. There is a lot more techniques involved in stabilized power supplies than might at first be imagined so the simpler power supplies, would be an excellent first project to get experience of small signal and power electronic techniques and the physical layout and construction involved.
But, if you just want to own a power supply for your electronic projects, don't mess around designing, building and developing your own power supply. Instead, just buy a bench power supply. It will be far cheaper, quicker, and the power supply you buy will work out of the box. This is the power supply that I would recommend for general electronics use- I have three of them (first image above):
http://www.ebay.co.uk/itm/10A-0-30V-Adjustable-DC-Power-Supply-Precision-Variable-Digital-Lab-w-clip-CE/281600624877?_trksid=p2047675.c100005.m1851&_trkparms=aid=222007&algo=SIC.MBE&ao=1&asc=20140122125356&meid=21c22124a2ef42628e715bc687bc148c&pid=100005&rk=4&rkt=6&mehot=ag&sd=111711917619
INTEGRATED CIRCUIT POWER SUPPLIES
Two types:
(1) Floating reference voltage
(2) Constant current reference
LINEAR POWER SUPPLY CHALLENGES
Stabilized linear power supplies are very simple but the three main challenges are:
(1) Preventing oscillation
(2) Current limit
(3) Cooling
There is a further challenge with a variable output voltage power supply: adjustig the output voltage to zero volts
WHY HAVE LINEAR POWER SUPPLIES
Although switch mode power supplies have many advantages: small size, low weight and, most of all, high efficiency, they have an Achilles heel: noise. To give a rough order for comparison a switch-mode bench power supply would generate 100mV peak to peak of noise on its output, while an equivalent linear power supply would only have 3 mV peak to peak of of noise. The other con with switch-mode power supplies is that they are more complex, and thus more difficult to understand and modify. To a degree they also use more advanced and specialist components.
Designing a switch-mode power supply with a variable output voltage and current limit is also more difficult.

THEORY
Shunt or series stabilization
Why not switch mode which are efficient and cheap
Rectifiers
Reservoir capacitors
Ripple Voltage
How does stabilization work
Drop-out voltage
Back feeding
Load drain
Over voltage protection
NOISE
HEAT DISSIPATION
SIMPLE POWER SUPPLY
INTERMEDIATE POWER SUPPLY
BENCH POWER SUPPLY

CONSTRUCTION
spec