Issue: Draft 07 of 2016_11_20​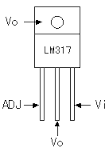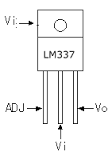 INTRODUCTION
Standard positive (LM317) and negative (LM337) three terminal regulators (TTRs), are dead convenient for making fixed and variable voltage power supplies to provide between 50mA and 7A, but, generally, they do not go lower than their 1.25V, floating reference voltage.
You can get around this by using one of the reference current regulators, like the Linear Technology LT3081/LT3083 families, but there are still two other problems to solve (see Addendum). Also, low drop out (LDO) regulators, like the LT3081/LT3083 families, are more difficult to stabilize in the frequency domain because of the voltage gain of their 'PNP' output stages.
The simple, low-cost circuit below resolves the three major problems. A commonly-used bridge rectifier is shown for the primary supply but all other configurations are also suitable.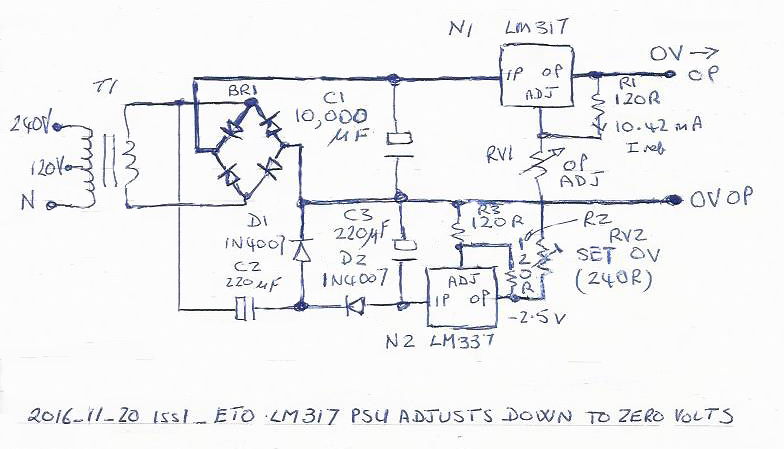 ​
CIRCUIT DESCRIPTION
The power supply output voltage in Volts = 10.42mA * value of RV1 in K Ohms
TBC
NEGATIVE VERSION
A negative version of the power supply can be realized by simply swapping the positions of the three terminal regulators and reversing all polarized components (diodes and capacitors).
SIMPLIFICATION
For less demanding applications the following simplifications can be made
(1) R2: omit
(2) R3:replace by a link
(3) RV2: replace by a link
This will result in a worst case minimum output voltage of 100mV and depends on the relative reference voltages of the two three terminal regulators.
spec
ADDENDUM
PROBLEMS WITH ZERO VOLT OUTPUT
(1) Reference voltage cancellation
(2) Regulator minimum current
(3) Stability

LINKS
(1) LM317 (positive):
http://www.ti.com/lit/ds/symlink/lm317.pdf
(2) LM337 (negative):
http://www.ti.com.cn/cn/lit/ds/symlink/lm337-n.pdf
(3) LT3081 family (positive):
http://www.linear.com/product/LT3081
(4) LT3083 family (positive):
http://www.linear.com/product/LT3083
(5) LT3091 family (negative):
http://www.linear.com/product/LT3091