hey everyone, my name is max and I like to tinker with amps and speakers
I want to create a input energy dependent frequency shunt network which goes in parallel with a loudspeaker,
at low volumes a certain midrange frequency should be shunted off the loudspeaker, the shunt effect should go down as the power from the amp goes up, and more midrange signal reach the loudspeaker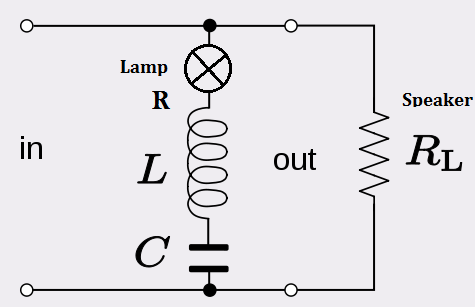 Series RLC variable resistance meaning:
at low voltage/current from the amplifier, the shunt network impedance should be low and reduce a certain audio band that reaches the speaker, lets say center f 500Hz, with a bandwidth of 300Hz , -25db
as the energy coming from the amp goes up, the shunt network impedance should go up and eliminate less! signal and deliver more to the speaker,
center f and bandwidth should stay the same as energy goes up or down
my idea is to use a LC band pass resonance network in series with a lightbulb, as the energy increases, the lightbulb heats up, resistance increases, which raises the impedance of the shunt network, and directs more energy to the loudspeaker
A cold 100W bulb reads around 40ohms, it goes up tenfold when hot. I imagine 3 bulbs in parallel to 13ohm cold.
I realize the following issue,
The lightbulb resistance apparently does not influences the center frequency but the bandwidth!, at cold 10ohm the bandwidth is around 300Hz, at hot 100ohm the bandwidth goes up to around 3000Hz, (which I do not want)
but:
The 16ohm loudspeaker resistance will practically be in parallel with the lightbulb resistance, would this deliver a stable low resistance to keep the bandwidth at a narrow range?
Also the damping factor of the shunt network goes from 0.3 at 10ohms, up to 3 at 100ohms, can someone explain the damping factor for me? can this be translated in a total volume loss in db ? or in voltage or current?
Is this whole thing even a possible approach or are there other issues with this idea?
thank you for any help in advance
max
Last edited: