Hi there,
I was trying to build a SOLID STATE RELAY with zero crossing switching. Similar to this type.
**broken link removed**
In my case I was using MOC308x,
http://www.jameco.com/Jameco/Products/ProdDS/698998-DS01.pdf
The TRIAC I am using is BTA100-800A.
http://file.yizimg.com/196127/2016930-10638360.pdf
dv/dt of BTA100 is 500V/us.
I need to be clear you few facts.....
The SSR is going to switch following type of Delta capacitive bank!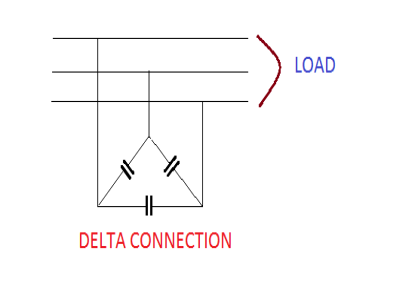 R.M.S Voltage = 440 VAC
Reactive Power, Q= 25kvr
RMS Current= 32.8A
Capacitor values= 342.53uF
Frequency=60Hz
Power factor= -0.4
I want to know with this higher power application is there any problem with MOC308X+BTA100 resistor wattage ?
I was using(see the first circuit) 2W for 360R ,330R and 39R and 0.01uF 630VDC for film capacitor in case of 220VAC/2A inductive load.
For 40A application, I will change bank capacitor.