Hi there, I could use a hand getting my head around a design for a single ended signal to differential input&output amplifier.
I'm using an AC current sensor (LTSR-6NP, **broken link removed**) which gives a single ended voltage output referenced to ground with the zero current point at mid supply rail.
This particular sensor also has a voltage reference input to adjust the zero current midpoint.
I want to make this signal differential so its more noise immune, to do this i found a differential line driver ADA4049-1 (
https://www.analog.com/media/en/technical-documentation/data-sheets/ADA4940-1_4940-2.pdf
)
This has a fully differential input and output as well as a output common mode voltage set point, Vocm.
This is the kind of thing i'm thinking of at the moment. I'm not sure if i need the Rg and Rf on the -IN input, or if i should just connect the 2.5V mid point reference directly to the negative input?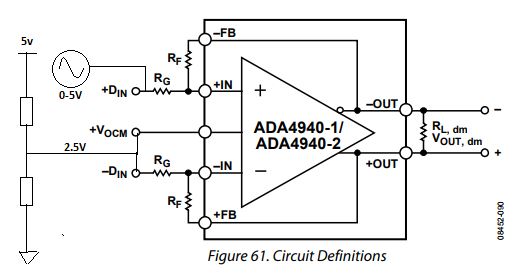 or this