Well-Known Member
Most Helpful Member
My friend, an amateur astronomer, has a older telescope that uses a 120Vac 60Hz 3W 0.25rpm Synchron motor and gear train to keep the star being observed in the field of view. The motor looks like this:
The gear reduction ratio is such that the scope mount would turn 360 degrees in 24 hours if the Synchron was fed 60Hz. In this application, the frequency of the drive is variable from about 50Hz to about 70Hz with a pot, so you can chase a star, center it in the field of view, and then dial back the rate so as to keep the star centered. The power source is a 12Vdc battery.
The electronics has died and he brought it to me to fix. The electronics that drives the motor is in a potted assembly, and even the transistors and ICs on the pcb that are visible have had all their markings ground off. The dickhead builder that originally sold this has died, leaving no information.
I'm thinking it is easier to build a new drive than to try to unpot and trace out the schematic of the existing one, especially considering that the part numbers were ground off chips and transistors...
I am thinking of using a pot-controlled 555 astable running at 120Hz +- 20Hz, into a CMOS flip-flop to divide the frequency by two to get two symmetric 180deg-out-phase square waves at near 60Hz, driving the IN1,IN2 inputs of a L298 H-bridge driver like this: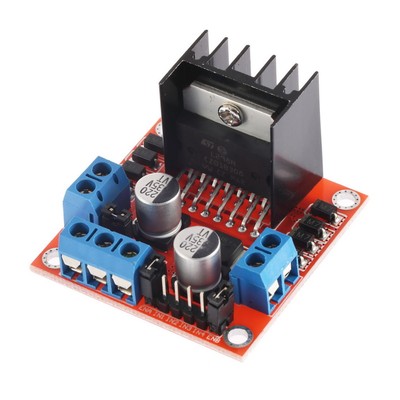 driving a 120Vac to 12Vac@2A wall-wart transformer turned around to make it a step-up transformer. I have all the parts to knock this together.
The DC resistance of the motor is 856 Ohms, but it is highly inductive. The motor will run at any voltage >~70Vac. When powered from a nominal 120Vac 60Hz, the AC running current is 30mArms.
Any other ideas?
Last edited: