I have purchased the following UV exposure unit about a year ago to make my PCB's: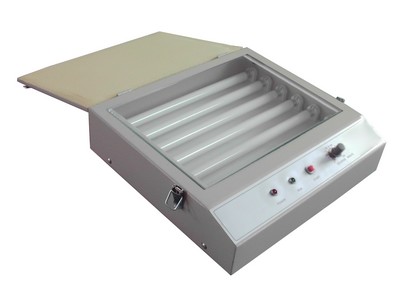 It had done a good job but now I have a "wear-and-tear" problem.
As of last light test (I put the lights on for 1/2 a second), the 2nd bulb from the back is completely off, and the rest are completely on except for the one closest to the front which is pinkish in color. Also the ends of the bulbs where light is supposed to emit is also a dark color.
This suggests to me that I need to replace the bulbs.
The problem is the local hardware stores only carry 12-inch bulbs of the same style for counter-top fixtures but I don't think they are the same. They identify them as flourescent but I read that UV and flourescent are different and its the UV that the pre-sensitized layer of the PCB needs I think.
I also checked a local electronic store online for the bulb and they don't carry it.
So far, the only solution I come up with is to bus 65+km to scarborough (to the same store where I got the exposure box from) but its ridiculous to travel that far just for a lights.
I think I did see someone once make a UV exposure unit with UV leds but how would I embed that into this box without blowing anything up? or is that even doable?
I mean I'm just trying to look for a good option so I won't have to travel 65km every time I need to replace lights.