Hello.
I am posting here after a long time. Hoping to get some good suggestion on the issue. Let me come to the problem first.
The audio amplifier PCB has

no audio output

(Left or Right). These are the current picture of the PCB from backside: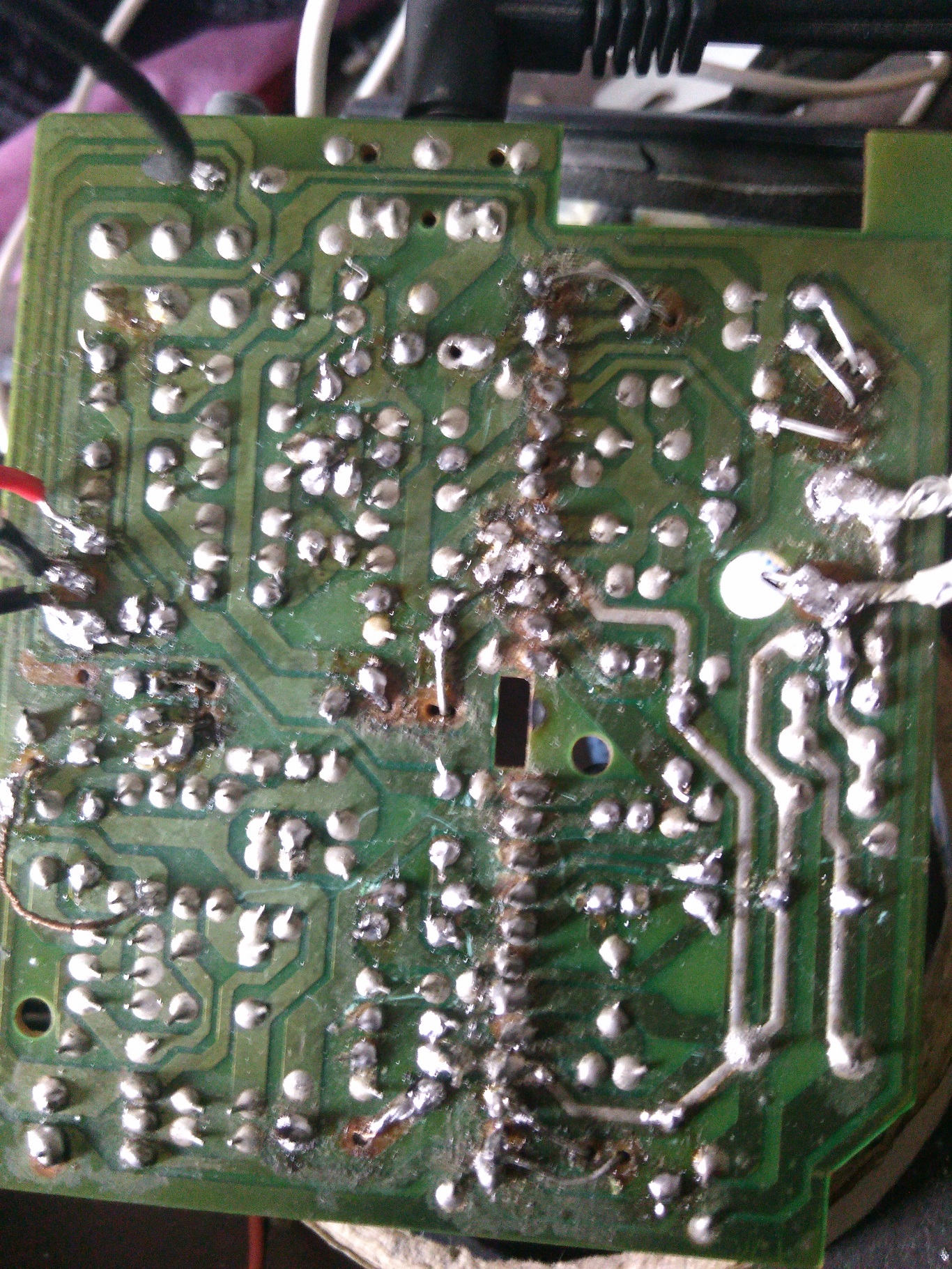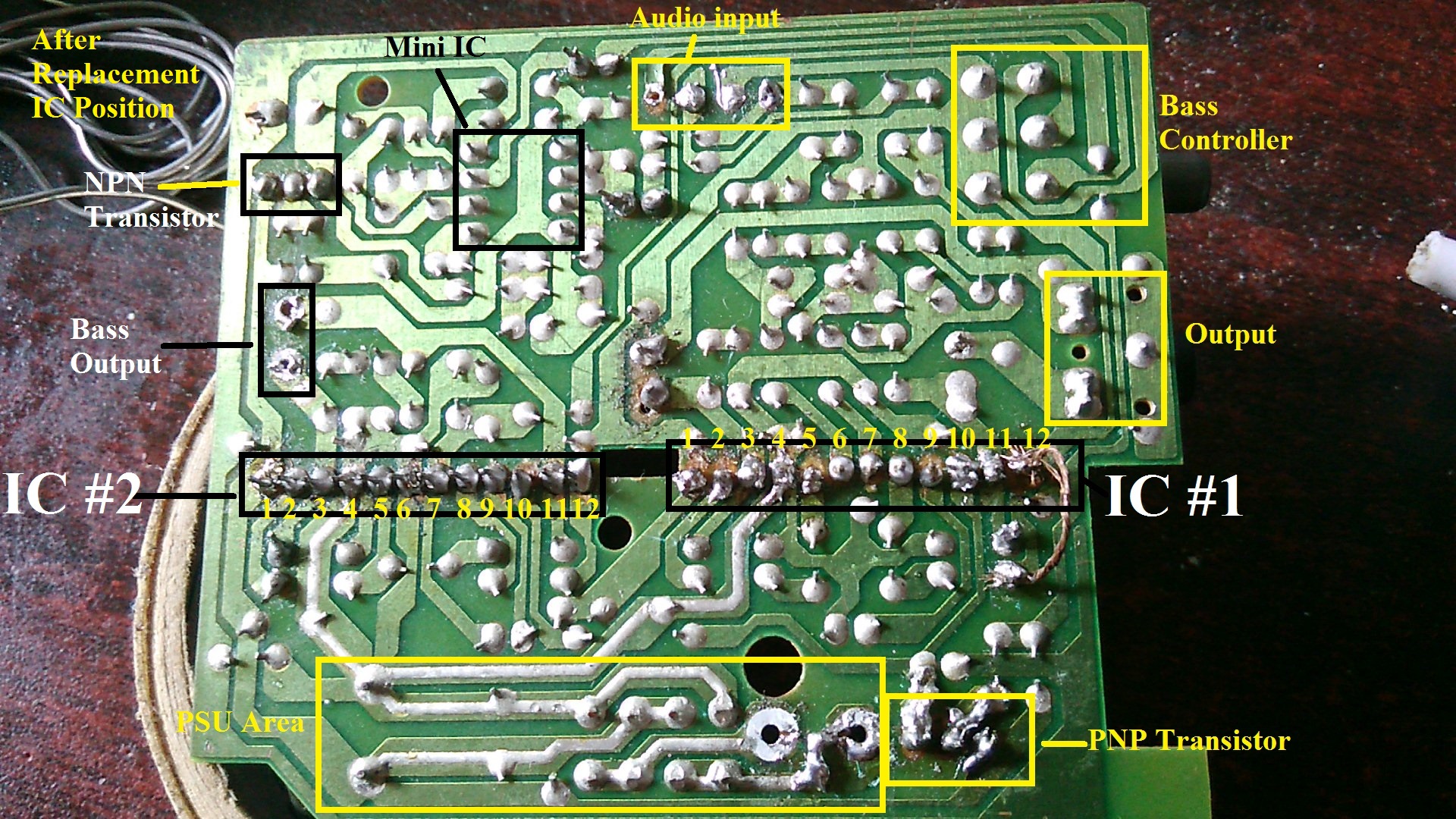 The working diagram of the PCB is followed as this: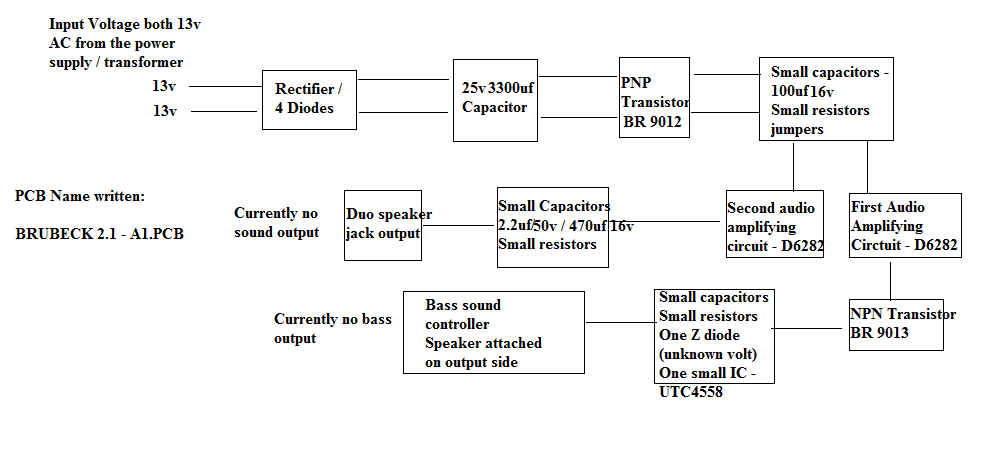 The working diagram of the IC CD6282CS: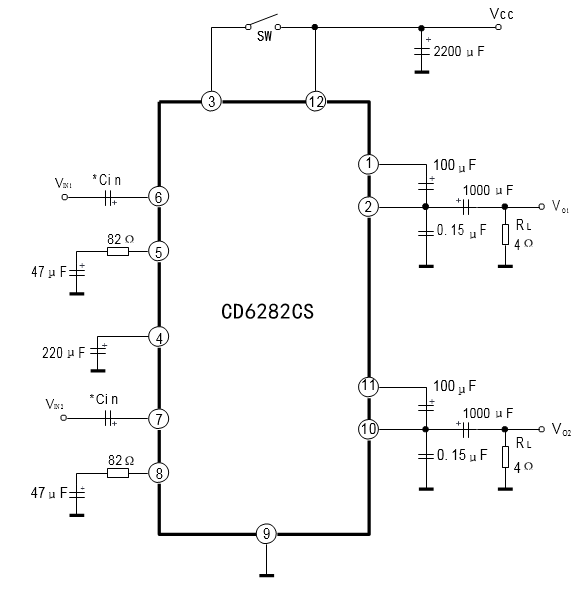 Pinout of the IC CD6282CS
Statistical chart of the IC CD6282CS:
Current Voltage Reading on each pins of the IC CD6282CS:

Some of the features of the PCB:
1) Single channel output jack for both Left and Right Speakers.
2) Direct power touch from 220V AC without any switch.
3) Has a volume controller but at the side of the Input wiring.
4) PCB is still strong enough for rework.
5) There is a single Z Diode, two Transistors and one UTC 4558 small circuit.
6) Checked both the speakers (left and right) with my laptop and android cellphone, they are working just fine.
Things I have done so far:
1) Changed both ICs as suspected for damaged and burnt of the previous ones.
2) Changed almost all the capacitors on the PCB, both Ceramic and Electrolyte.
3) Changed almost all the Resistors on the PCB.
4) Checked voltage output reading on the ICs (both UTC 4558 and CD6282) thoroughly again and again.
5) Checked incoming audio signals and it's working just fine.
6) Checked all the Capacitors for voltage output. They are just fine as well.
Some historical background:
First problem:
The left side speaker had less sound than the right side. After opening the sub-woofer, checked the PCB and found one bulged Capacitor attached with the left side speaker.

Solved the problem by replacing the cap.
Second problem:
I also checked with the test screwdriver thoroughly (that I shouldn't have) by touching the pins for voltage confirmation. It created some buzz sound and I stuck the screw driver for a long time. This damaged both the ICs CD6282.

I changed both the ICs but there was no sound output. From here, started my journey of solving this sound output problem.
Overall progress:
It's been 4 months straight, I am working on this PCB but still got no positive result on anything. I tried changing everything. But the result is still same. I will solve this problem no matter what. But I need help of the experts. And I am not giving up hope.
Assumption:
I am not an expert on electric components but I think it's the ICs that has audio output issue. Because I believe these circuits needs to be turned on somehow, which I don't know how, to have sound output. That's just my assumption based on the issue.
Suggestion:
I am expecting some real suggestion on solving the issue, because I got attached to my components and I believe I can fix it. So, I beg you, please help me out on this.

Waiting for your kind replies and suggestion. If you need more info just tell me what to do. I will describe more about the ICs or PCB.
With regards
Iori