Hi,
I was reading about a linear regulator using a zener diode,
**broken link removed**
.
I was going through
this example
on the same page and got confused when I tried to change numbers.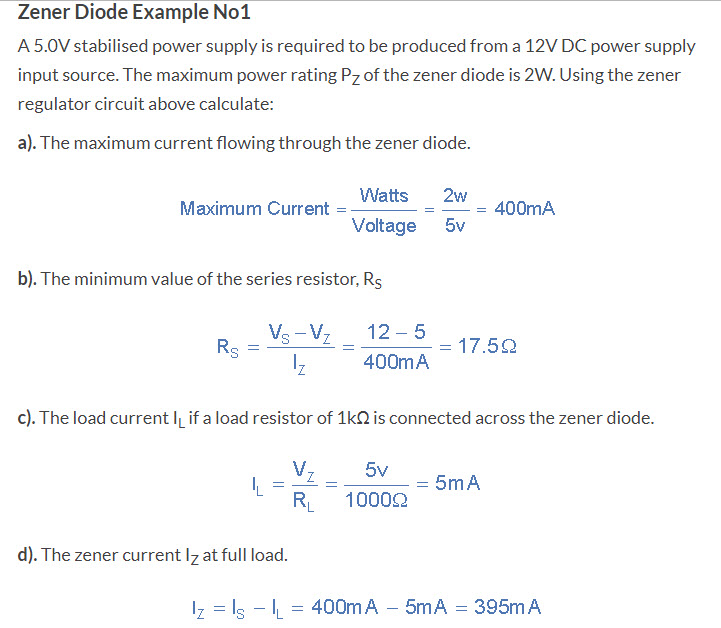 At zener voltage, V_z, the diode becomes an open valve and would permit any amount of current without significant change in the voltage; the current is limited by using a series resistor. In other words, at zener voltage the diode becomes a shunt.
Using the same circuit as shown in the example but assuming that R_L is 16.7 Ω and requires 5 V for its operation; it would take 5/16.7=300 mA. The maximum current supplied is 400 mA.
Would 300 mA pass through the load R_L and the rest 100 mA through zener diode? I assume that your answer is 'Yes'. Compared to the load resistor, R_L, the zener offers less resistance so more current should pass through it. Where am I going wrong? Thank you for your help.
Helpful links:
1:
**broken link removed**
2:
**broken link removed**
3:
http://www.reuk.co.uk/wordpress/electric-circuit/zener-diode-voltage-regulator/
Zener diode specs such as zener voltage, mimum zener current:
4:
http://electronics.stackexchange.co...rent-if-it-is-not-explicitly-specified-in-the
5:
http://www.digikey.com/en/maker/blogs/zener-diode-basic-operation-and-applications