Hello Everyone,
I built the circuit below with the PAM2423 Boost converter IC....
Here
is the datasheet.
I am wanting to use it to get about 3-4 Amps of current at 5V out of a 12,000mAH Li-ion Battery Pack, which will put out between 3V and 4.2V....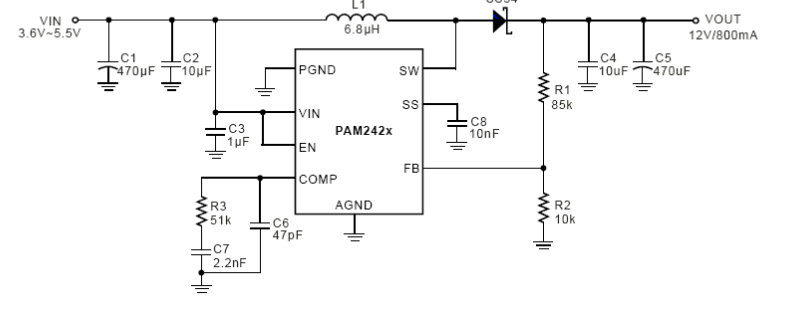 I built this exact circuit with only 2 small changes...
R1 = 33k ohm to get 5.3V output
L1 = 4.7uH
So, I hooked it up, and it looks like it works great, putting out 5.3V and everything...
Until I put on a small, 200mA load... Then, with the input at 4.2V, the output was at 5.1V - a 200mA drop, and at 3V input, the output was at like 4.1V!!!!
I think it is probably the Comp pin circuit that is the issue, and I know very little about Compensation pins....
Any help would be greatly appreciated!!!!