Hi all. I could use someones assistance.
Just for information, I am a trained technician but I have no experience in repairing fridges
I have a 10 year old Daewoo FRSU20 fridge/freezer. Few nights ago, the fridge stopped working, with a few "bang" sounds (coming from the top of the fridge) and then it stopped working; totally dead.
What I have done:
1) Replaced the glass fuse (A) on the controller board but blow again.
2) After some measurements, I could see that the diode D2 (B) in the power supply was shorted. I replaced the diode
3) When the fridge was turned back on, it ran for few minutes then turned OFF, but the fuse didnt blow. If the fridge was unplugged from power and connected again, it started but turned OFF again after few minutes. I noticed that the IC2 (STRG6352) (C) was overheating. It could mean the the IC was broken or some component was using too much current and the IC turned the power supply off to protect the circuits.
4) I replaced IC2 (STRG6352) with a new one. The IC over headed as well and burned over and the fuse (A) blew. I installed the old IC2 again, and the fridge turned ON but when back off after few minutes when the IC2 got too hot.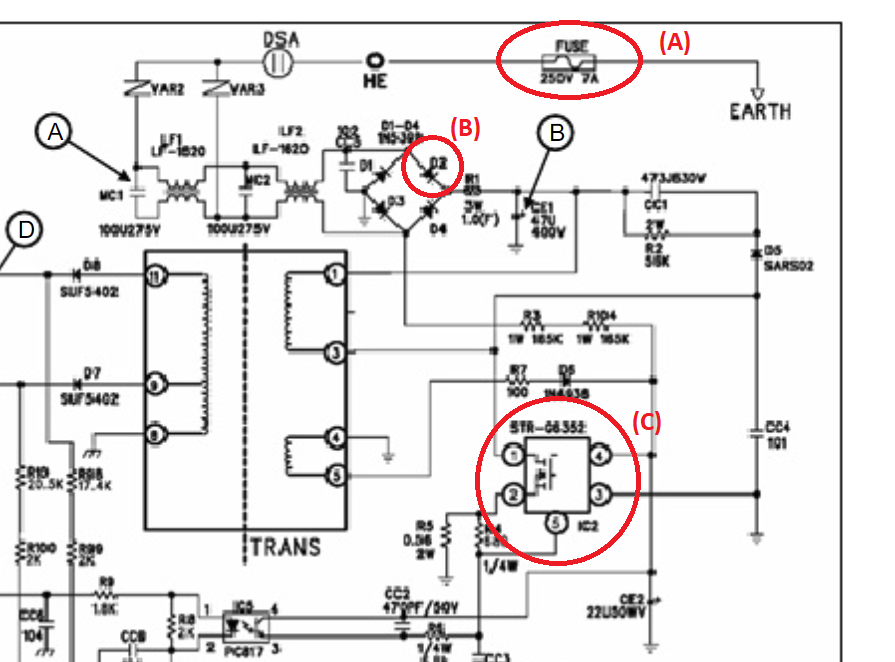 5) I unplugged most of the connectors of the control board. Only connectors plugged was AC power to the board and the display. The fridge turned ON and didnt shut down. However, IC2 was hot but under 100°C. When I connected the compressor, it ran for few minutes until IC2 got overheated and then turned OFF. I am sure that the problem is not the compressor.
Any ideas for me gentlemen and ladies
All my best
Julius