Hello ETO,
Working on a motion detector (PIR) actuated LED display
w 300 lights. Using 3 mm LED Mouser #: 604-WP710A10PGT
mounted in plexiglas operated by Maxim 7129 IC in
a custom designed PCB.
The question is how to connect the PCB to the LEDs.
At the PCB using Mouser 571_282834-8, TE Connectivity
Fixed terminal blocks. The terminal blocks
https://www.mouser.com/ProductDetai...cu6/tyhQV/GlIyync%2BR5zJOVGuWWFlMGm6TZ9uXIA==
while a bit expensive
work great because the connector screws down onto
the wire and provides good, firm connections.
The issue is the connection to the LEDs.
Have received :
Mouser #: 593-CNXBE4112
Mfr. #: CNX_B_E_4_1_12
Desc.: VCC Lighting Cables Lighting Cables 3MM PNL CNXBE4112
https://www.mouser.com/ProductDetai...Ikqup3QUmz/Q8k7gBr/4sqzV6M1gjuel%2B5IRrbvjg==
and
Mouser #: 523-SSL11J2LJ0B22A04
Mfr. #: SSL11-J2LJ0-B22A04
Desc.: Amphenol Lighting Cables Lighting Cables SSL1.1WIRE ASSY,WITH W2B LOCK
https://www.mouser.com/ProductDetai...a2WeR3g4GXWcnccVVD3Vb3JJEFGSvolicLooHaVVZ2WTA
Using the VCC CNXBX4112 it is often difficult to get the
LED leads to fit down into the header. See attached photo
marked 'LED One'.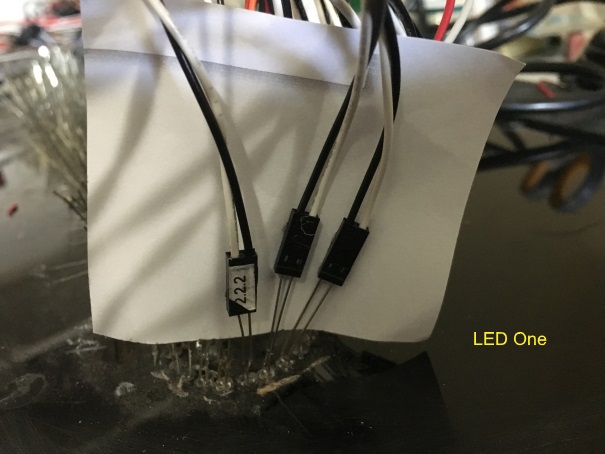 In that photo the header marked 2.2.2 sits
down properly on the LED leads. The other two headers on the
right, like many others, even after fitting and refitting for
five or ten minutes will not go down onto the LED leads.
When the leads won't go all the way down on the LED lead,
if even touched slightly, will some times disconnect.
The wire coming out of the terminal block could be soldered to the
LED lead but that would be 600 solders. Will avoid if possible.
So purchased the Amphenol hoping to get an easier more, solid
connection at the LED, like the connx at the terminal blocks,
which are pretty easy, and very stable.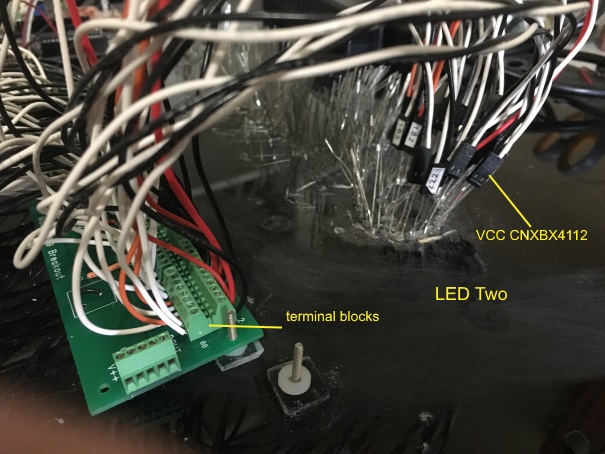 Hoped the Amphenol would solved the problem with fitting the header onto
the LED lead. But although the leads go into the header easier, the header
does not conduct through the LED to make the LED light.
See GIF marked LED Three.
Is there another lighting cable that would go from the
terminal blocks to the LED leads?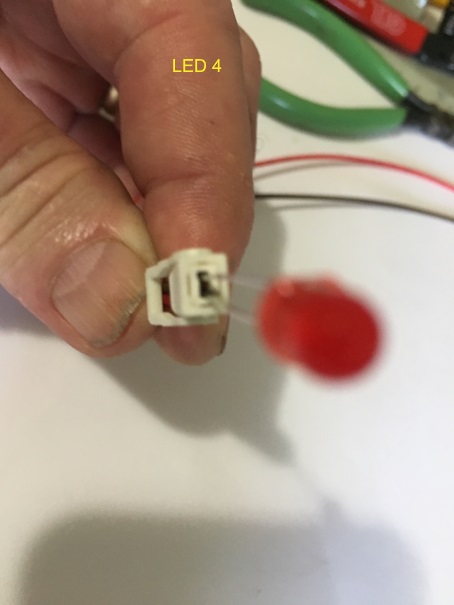 Thanks.
Allen Pitts, Dallas Texas