Issue 03 2016_10_31​
Introduction
Recently, in an ETO
thread,
Mikebits
described a reasonably priced solder station that he had just ordered. As the information in the thread may be of general interest, with the contributor's agreement, I have paraphrased it and posted it as an article so that it is more visible and easily accessed. Some information has also been added.
The contributors, in order of posting are:
Mikbits
(OP),
KeepItSimpleStupid
,
G0WZB
,
JimB, MrAl
,
dr pepper
,
Inquisitive
,
Reloadron
,
Little Ghostman, RadioRon
Background
If you are into electronics good solder joints are essential, but solder joints and rework are getting more difficult to do in the face of increasing miniaturization, especially with the advent of surface mount components with narrow leads and close spacing. Ball grid arrays (BGAs) have greatly compounded the difficulty. A range of bits for the soldering iron is essential. In general, the soldering options are:
(1) Soldering iron
Basic mains powered soldering iron, possibly temperature controlled.
(2) Solder station
Base unit with soldering iron bit temperature control, soldering iron, soldering iron holder, sponge/scouring/chemical bit cleaner, and possibly a heat gun. The iron typically operates at 24V AC. A magnifier may also be part of the station.
(3) Rework station
Comprises a solder station plus extensive facilities for soldering and rework, possibly including an oven.
Thread Paraphrase
Mikebits
: Although I have fancied a decent solder station for ages, the cost has always put me off. The other day, I was about to order some bits for my present Solomon DL120 station but, with shipping, they would have cost $30 USD, so I decided to research a modern replacement solder station instead.
After reading this
review site
and following a week's contemplation, I decided to go for the X-tronic XTR-4040 on the basis of reasonable price, good handling, reliability, and the availability of a wide selection of low cost bits.
KeepItSimpleStupid
: I bought the 6000 Blackjack Solderwerks Delux Soldering Station
http://www.circuitspecialists.eu/bk-6000-blackjack-solderwerks-deluxe-rework-soldering-station/
from Circuit Specialists in the US. It seems like a re branded Aoyue. I had a number of issues with it and could not recommend it. I suggest inspecting the inside of the cheaper solder stations to ensure that everything is in order. C100 paste is a suitable adhesive for any repairs that may be necessary.
G0WZB:
What is the use of the black rod with the u shaped wire.
JimB
: It is to assist removal of integrated circuits when using the heat gun.
MrAl
: A friend has that same soldering station, but with red LED's not blue. I almost got that one, but found a similar station for $50 US less.
This family of solder stations have similar irons where the claim of 60 watts power turns out to be only 35 watts, as highlighted in my ETO thread, 'Deception in Soldering Iron Ratings'.
http://www.electro-tech-online.com/threads/deception-in-soldering-iron-ratings.143071/
This is not a major shortcoming though, as the irons will still solders most PCB components well, but it does struggle with heavier parts, like large diodes- the hot air gun, which initially draws about 600W, may help. The hot air gun works well with SMDs.
As the iron elements are common; I borrowed one from a friend with the XTR-4040 station to replace the burnt out element in my station; I have some spares now and they are easy to change.
The elements and bits are available cheaply on the net. Replacement irons are $10 US, so you could get a spare like me. I think a spare iron is included with that station, although not a spare element.
So overall, that family of solder stations are not bad, in spite of the iron being 30W rather than the claimed 60W. Other than that though, all is well.
You should read this thread:
http://www.electro-tech-online.com/threads/deception-in-soldering-iron-ratings.143071/
dr pepper
: I've been thinking of getting a Chinese Hakko clone too. Big Clive's YouTube channel recently featured a review and teardown of a digital soldering station, with a similar iron to yours.
The solder station that I've used for the past twenty years is a xytronic; x-tronic sounds familiar.
Little Ghostman
: The Chinese manufactured XTR-4040 type solder stations have been repackaged many times. I have a WEP-120 which is similar.
Solder stations, like the XTR-4040, are often dismissed as being too cheap to be any good, but this is an instance of a worthwhile bargain. I would urge any nooby to avoid the $10 US pipe melters available from hardware stores, as the bit base rots and the temperature is uncontrolled. The irony being that most noobs try to save money and are hit by a triple whammy: inexperience, lead free solder, and an iron that even a professional wireman would struggle to make a good joint with.
My WEP-120 has been used daily over the past four years with no problems, apart from me crushing an element by over tightening, that is. The LCD temperature indication is surprisingly accurate: 235C compared to an actual 240C. So far, the hot air gun pumps have been faultless. The bits last forever: I use three bits for most jobs and the most frequently used bit has just started to discolour, but not pit. The other two are like new. In any case, sets of bits are dirt cheap from eBay.
The WEP120 iron feels solid and is a pleasure to use, especially since I have wrapped some tape around the handle to suit my large hands. My Weller iron is slightly more comfortable though. The hot air gun does blow rather hot, although it can be turned down
My solder station was relatively expensive at £100 UK, but as it is still going strong after four years of heavy use- twelve 500g reels of 0.3 to 0.7mm proper lead/tin solder- so it is still a bargain.
Would I buy it again- definitely! I enjoy using it. Would I recommend this family of solder stations- highly! A great station that will exceed your expectations Mike.
Mikebits
: I also ordered one of these board holders too: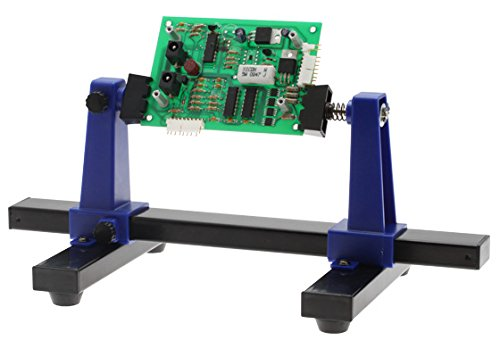 I got my station yesterday, and here are my initial impressions. First thing I thought when I open the box was "I'm gonna need a bigger bench". The set-up has used all my real-estate: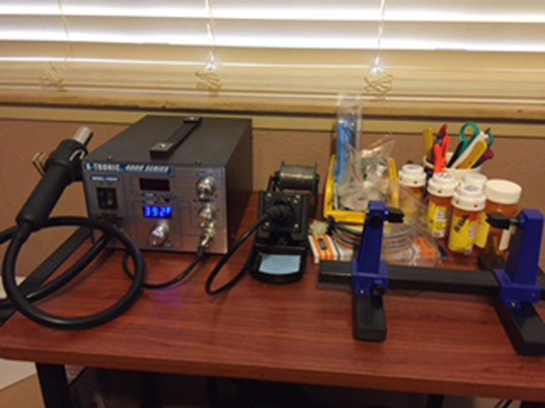 Looking at the photo, I guess it is not that much. Anyways, I am not usually one for reading instructions but I did this time. There was a warning slip that came with the solder station:

I read "Please Remove" the 3 "Silver" Pump Securing Screws which are located on the bottom of the unit. So I turn the unit on its side and sure enough I found 3 silver screws, and proceeded to remove them. As I loosened the third screw, I heard a plunk, and my thought was Oops! Oh crap, well not to let my new toy end up broken I removed the top panel, and sure enough, I had also removed not only the pump, but a power transformer. I looked around and I did not see any damage, so I just put the thing back together. Took a photo of the inside since I already had it open.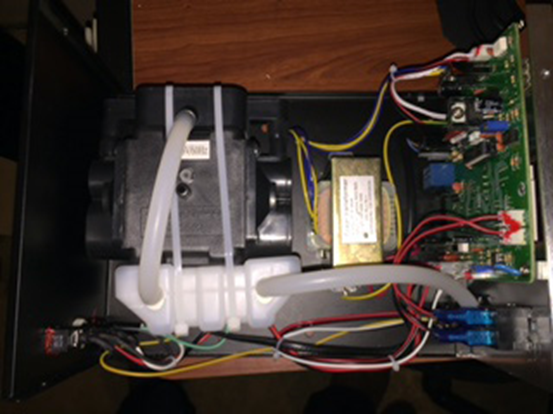 Looking back now, I think the warning label should have said, remove the #3 silver screw, doah . Anyways looks like there is a microcontroller in this thing.
I put the unit back together and powered it up, solder iron only. Heated up quick and nicely, but as I was in the middle of another task, I thought I would do some actual soldering later.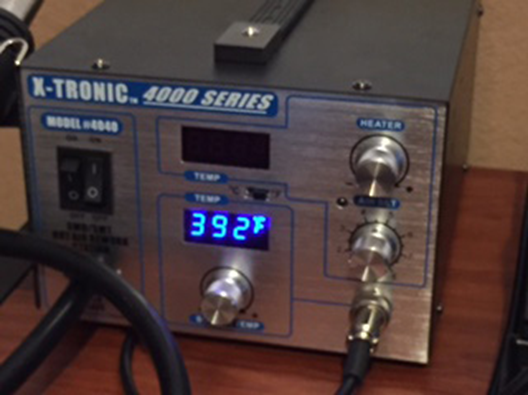 So all in all, first impression are that this thing is solid and well built, with a tough durable chassis and a purrty Blue LED display .
Oh! I almost left out the important part. I did measure the resistance of the heating element. There were 4 wires, two clear insulated wires and two coloured wires. The resistance between the two coloured wires was 1.1 Ohms, and the resistance between the other pair was 14.8 ohm. The 14.8 ohm made sense but the other pair did not, to me anyways. That's it for now. Oh a nifty illuminated magnifying glass came with the unit, but it got set aside until I get a bigger bench.
KeepItSimpleStupid
: The 1.1 ohm resistor may be a K type thermocouple. They seem to be common in some irons.
MrAL
: That's the station that I was considering before I found the WEP station which was half the price, but didn't include a magnifier (I wonder if XT now use LEDs in place of a circular fluorescent tube to illuminate the magnifier).
Yeah, that screw is tricky; mine was painted red. It should be put back if the unit is shipped again.
My heating element is 15.5 ohms so, with 24v across it, the dissipation is 37 watts.
The other two wires connect to a K type thermocouple which generates a voltage, very slowly, proportional to temperature. This can be verified by heating the iron and measuring the voltage. I did these tests when I first got the solder station to establish how it worked.
A TRIAC turns on and off about once a second in a PWM mode to control the AC power dissipated in the element. When the bit is cold, the TRIAC stays on for longer until the bit reaches the set temperature. AC is supplied by a 26V transformer which may limit the element power.
The type of thermocouple and the element power defines the bit type that can be used with these stations. Both the elements and the entire handles, with elements pre-installed, are freely available.
Temperature dependent resistive sensors are also used in some irons, but they measure around 10 ohms (I think). The resistance changes as the tip heats up, unlike the thermocouple sensor where the voltage changes.
It should be quite simple to make a controller for either type of sensor, to increase the element power,
The heat gun, possibly 600W, is more complicated because it needs an air pump.
Because of the iron's relatively low power, I use a heat gun to solder bigger components, (Incidentally, the Harbor Freight gun should be avoided because the tips rapidly burn out and the transformers overheat. A friend had identical problems).
I have used my solder station to make many solder joints successfully.

Additional Comments (Work in Progress)
Little Ghostman
: I will send a couple of pics of alternative board holders that crop up from time to time on eBay.
A wet wet sponge is not as effective as plain curly metal coarse scourers for cleaning tips. The looped scourers don't deplete the bits, but the Ajax or plumbers cutting wire wool should be avoided.
Also, the soldering iron cable at the station end and iron end if, you use it a lot, benefits from a little stiff heat shrink tubing on it to stop the cable getting weak at those points. Even though it has a covering to strengthen it, I found three inchs of fairly large and firm heat shrink stops the cable bending and kinking.
KeepItSimpleStupid
: A colegue has this:
http://www.denondic.co.jp/en/doc_sc7000z.php
desoldering tool. It just makes me drool. It does hot air too.
Direct connection between the diaphragm pump and the tip can provide high vacuum efficiency which can accommodate for the 8-12 layered PCB.
The combination of a 100W ceramic heater with sensor feedback temperature control circuit and high vacuum capacity can provide best work efficiency with no failure.
Protection against ESD is secured.
Quite compact, light-weight unit portable and ready to use at any location.
Low noise and low vibration.
The removal of SMD components can be easily done by a flick of the selector lever and by replacing the tip with the hot blow nozzle.
Mikbits
: I think there needs to be a distinction made here. You got rework stations like the industry standard MetCal, or the one I just purchased, then you got solder stations like the one I have in the image below, then you got your solder irons. For example I have a weller WP25, image below.

KeepIt Simple Stupid
: Althogh there are low cost options. knowing the price differential is useful info. You can't easily break down allin ones vs separates. e.g Receiver vs amp/preamp/sources. (e.g tuner). I believe Metcal is not resistive. So its apples vs oranges. e.g electrostatic speakers vs voice coil.
It might be wise to include a discussion of "technologies" and separates.
Furthermore, it's not a buy and your done (car). Even a car has tow packages and maintenance.
So for hot air and iron tips are optional.
Accessories like a reverse side IR heater may be required.
So while the focus is low cost, a technogical review I think is worhwhile.
Desoldering and rework is definately harder.
In depth isn't required, but I think the mentioning of tips, nozzles, technology and technique could be BRIEFLY included.
e.g. alloys that lower the melting point. Pre-heating, tips that heat all the pins, titanium tweezers, component launchers (LG's term).
Outline
Why do I need one
Soldering/desoldering
Technologies
individual/separates
Techniques
Caveats
Cream of the crop and why would one choose these.
Low cost options.
What silly things do I have to put up with when I get one.
Specific reviews/comments.
Little Ghostman
: Do you want a pic of the Wep station?
Also how about opening the scope a little and including some of the other stations people have, like you I have a couple of Wellers I got cheap off ebay. My all time best score was a Weller desoldering station for £5!! it was spares or repair but all that was wrong was the fuse! it also came with a load of tips and spares.
Mikebits
(update 2016_09_28): Thought I would give an update here on my rework station.
The soldering iron works as expected, and with the large assortment of tips, I have been able to tackle most jobs, even had luck with very fine pitch smt IC's, and RF mmics.
The hot air blower works really well, and I have been able to remove SMT parts with a breeze (no pun intended). I even tackled removing a BGA part which was my first attempt ever. It took awhile to heat up underneath the PCB but I eventually got it, (I think I had temp set to 350 deg C). Anyways, attached photo shows a few parts that I was able to remove. This sure beats the old solder sucker method that I use to use before getting a rework station. The smt parts come off so quickly I am sure they are still functional. Well that's about it for now.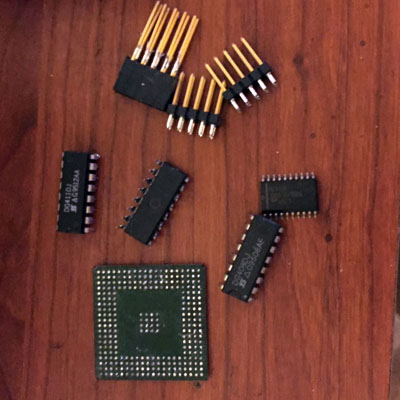 RadioRon
The Hakko FX-951 iron, while expensive compared to the irons many hobbyists buy, is actually good value. The key is their T15 series of tips. They are capable of delivering a lot of heat very quickly. The thermal recovery time, that is, the time from when you touch the tip to your work, to the time the tip is back up to its set temperature is very fast, even when you are soldering large metal areas. The actual heating element is built into the tip, not into the handle, and the temperature sensor is placed right behind the tip, that's the secret.
A previous poster mentioned that his auto-turn-off feature was annoying. This feature, more accurately called a power-save or tip-saver, turns the temperature of the tip down when not in use. The timer is adjustable to 30 minutes in one minute steps, (which is the time delay from putting the iron back in its stand to where the iron is allowed to cool down), and if he had adjusted his timer to something reasonable, like 20 minutes, I'm sure it would not have been so annoying. I like this feature a lot because you can leave your station on all day and the timer will look after cooling the iron off when you don't use it or walk away from your workbench. When you pick up the iron again after it has cooled down, or even when you have just switched it on for the first time, it only takes 12 seconds to come up to full temperature and be ready for soldering. That's not annoying, its actually pretty neat.
Hakko stations with this technology compete with JBC and Metcal in the professional electronics market and these other brands also use similar technology in their tips. I don't work for Hakko or have any stake in them, but after using Weller, Pace, Metcal, OK Technology, and JBC irons for over 40 years, I chose to invest my own money in Hakko because I like their performance, their feel, and their reliability.