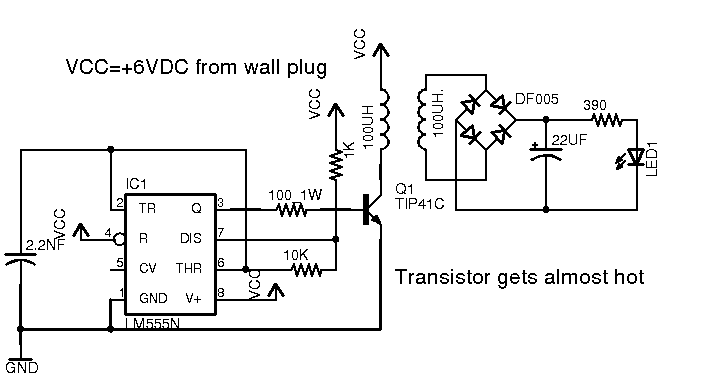 I borrowed the idea to make this kind of circuit from:
https://www.theorycircuit.com/wireless-power-light-array-using-ic555/
Because I didn't have the exact parts on hand, I made some substitutions. For the timer capacitor I used 2.2nF instead of 3.3nF because faster I think means more stability when it comes to power transfer.
I didn't have an SL100 transistor available, and another source advertising the same kind of circuit suggested I can use any power transistor so I opted for a TIP41C.
I wasn't sure exactly the value of the inductor to use so I tried 100uH for each inductor.
Also, I upped the source voltage to 6V instead of 3V because I needed to transfer more power wirelessly. Later I may switch it to 12V but I won't until I figure out what is going on.
Other than that, everything else is the same.
I applied power to the circuit and had the two inductors almost touching each other, and the LED did not respond at all. Also, I smelled something unusual, so I checked out all components on the circuit and noticed the TIP41C was getting very warm (almost hot), but then it cooled down right after I removed the power.
Is this normal or do I need a better transistor than a TIP41C or is the whole circuit a complete joke or is my inductor value way off? I'm lost.