Hi all!
New guy here, seeking help to convert 4 push-button switches into one rotary selector switch. This is on an old Craig H340, which has (imo) a very ugly set of 4 selector switches for the different inputs.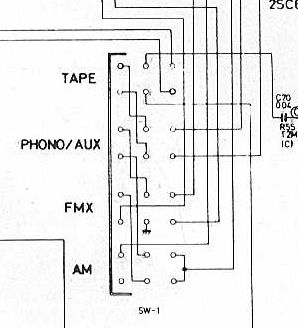 When a switch is off, it's two poles to the left will be connected to it's two poles in the middle(output). When the switch is pressed into the on position, of course the two middle poles connect to it's poles on the right (input). All output appears to go out through the middle poles on the tape switch.
Im having a hard time to wrap my head around how to convert this to a single 4 position rotary selector switch. Any help would be much appreciated!