Hey guys.
For a new project I want to control a 8.4v dc source to output 1-~6v 50a or more to a load that, at its minimum, will be ~.04 ohms..
I've got a basic buck convertor diagram that I think will work but I'm grossly lacking in specifics when it comes to actually building it. If I'm honest there's very little chance I could work out any of this myself
.. but I'm great at following directions
I've got a 50mm×80mm×10mm footprint to fit this into, I could vary that a little but that'd be the ideal size.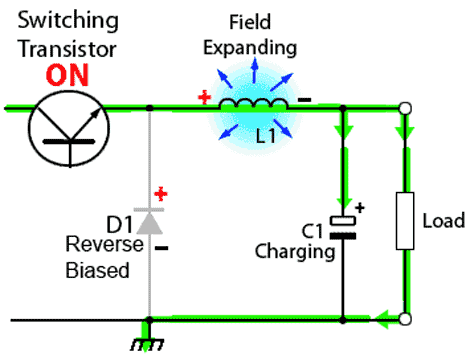 50a or more would require multiple capacitors I guess? what do I need there?
The transistor and diode, where do I find 50+a examples of those?
The transistor needs a pwm square wave driver circuit, and just so I've got this right, it being adjustable via pot is how the voltage is regulated right?
And the last specific I'm missing.. how the hell do I work out the inductor

I guess it'll need some pretty thick copper wire to cope with the load, (probably the only thing I can work out), but I've no idea of how long the wire should be, the diamiter of the coil, the composition of the core it wraps around or how I'd aquire/fabricate said core.
As always, any help here would be greatly appreciated.