How do I calculate the current being discharged from these 2 large blue Mallory capacitors 3" diameter 6" tall 74,000. uf each?
How can I put an indicator light on this so I know when capacitors are fully charged?
Can I use Mosfet or ??? in place of a push button switch. Switch self distructs pretty quick.
I plug this into the wall then wait about 60 seconds to make sure capacitors are fully charged through the 1n4007 diode and the current liminting resistor. I place an old round iron speaker magnet in the center of the coil then push the buttom to discharge both caps into the coil. The small magnet will lift 2500 lbs for 2 seconds.
Magnet has a half live of about 3 seconds. The magnet measures 5/8" diameter by 1/2" long. It will barely lift a 1 lbs block of steel but after being super charged it will lift 2500 lbs of steel and hold it for about 2 seconds. The super strong magnet looses it strength at a rate of about 1/2 every 3 seconds until the magnet is back to normal.
I dont know the maximum lifting power of this magnet. By the time I charge the magnet then use the hoist to lift the steel about 2 seconds magnet has probably lost 1 half life.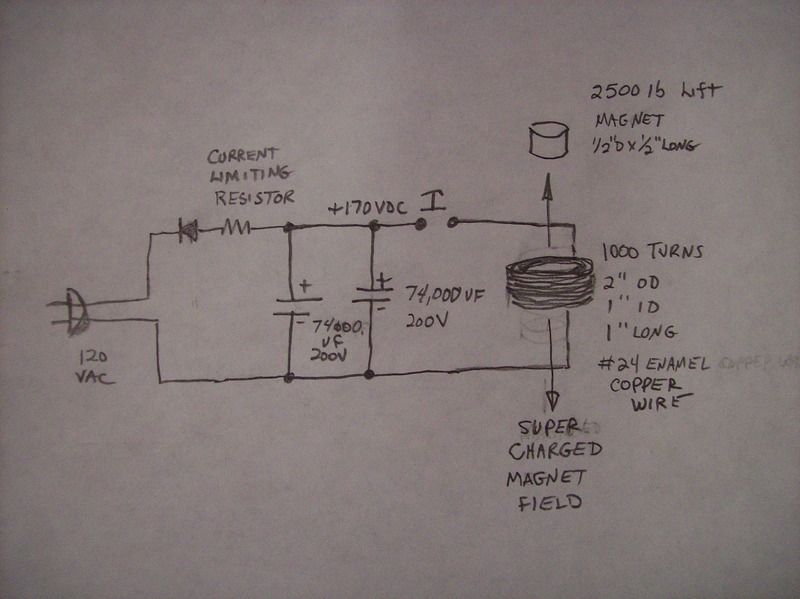 This is a dangerous circuit and should only be used by trained electrical professionals
Last edited by a moderator: