When performing a large-signal analisys in a CE amplifier, the load (RL) is being neglected, since it is said that the BJT will be biased so the DC collector current will be equal to the DC supplied current from VCC (V+ in the picture), and therefore RL would be seen to have an inifinite resistance.
I dont understand this since if you connect the load to the amplifier, then according to KVL: V_RL = VOUT.
If V_OUT = 2.5V DC for example, then according to Ohm's law, I_RL = 2.5V / RL.
So how come it is said that no current is flowing through RL?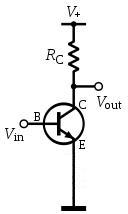 Last edited: