So in my Communications 2 class, our instructor gave us this circuit:
And for the next 8 weeks, our lab project is to simply "make it better". Problem is, we're running out of ideas on what to do to it.
So here's how we've tweaked it so far:
The kit we were given came with a 5V fixed voltage regulator, but in our testing, we found that the MAX2606 doesn't always like a full 5V. On my lab partner's chip, we started seeing clipping once we got up to 4.75V, however, on my chip, it takes the full 5V with no clipping until 5.3V. So we replaced the fixed 5V regulator with an LM317 adjustable regulator.
I've already found the other thread here on the MAX2606, and I plan on messing around with adding a 3904 on the inputs to see if that makes the sound better or worse.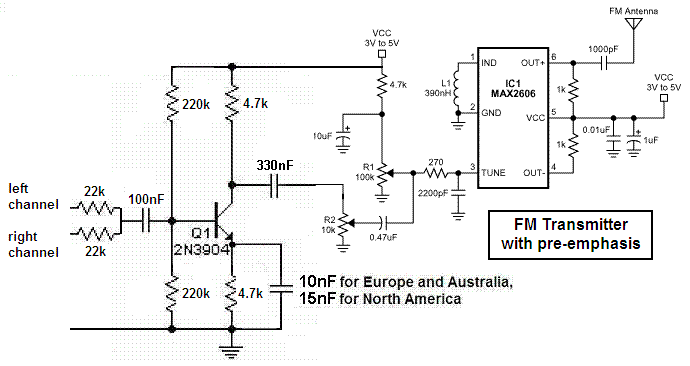 We've discussed the possibility of adding a 3904 or a 741 right before the antenna, but that would push the legal limits of the FCC...and it would also amplify any and all noise in the circuit...
Do you have any suggestions on how to make this little circuit better?
(note: We're not allowed to use a PIC or the ancient BA1404...I've already asked. Our instructor insists that the MAX2606 be the core of the circuit. :-/ )
Last edited: