I have been given a 250W solar panel with a maximum output of about 44V. I believe there are two types of controllers (MPPT, PWM) but don't know anything about them and don't want to spend a lot of money on one, as my main aim is main to provide garage lighting.
I can make a charger for the 12V lead-acid battery (probably from a circuit on this site ).
I can connect 12V LEDs to the battery.
I have an inverter if I want 220V AC for lighting or an electric drill.
If the battery is a bit flat or I want a lot of current, it would be good to be able to boost the battery output voltage with the solar panel. If I get a 48V to 12V DC converter and I'm assuming they have an internal output voltage sensor similar to an LM317, I could connect it as in the circuit below. It sounds alright to me, but I suspect that someone is going to tell me that it's a really bad idea!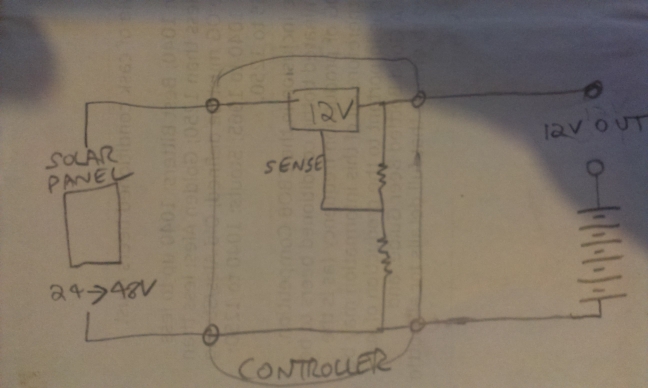 Last edited: