Nice forum, I am new here, i hope somebody here (an angel) can help me.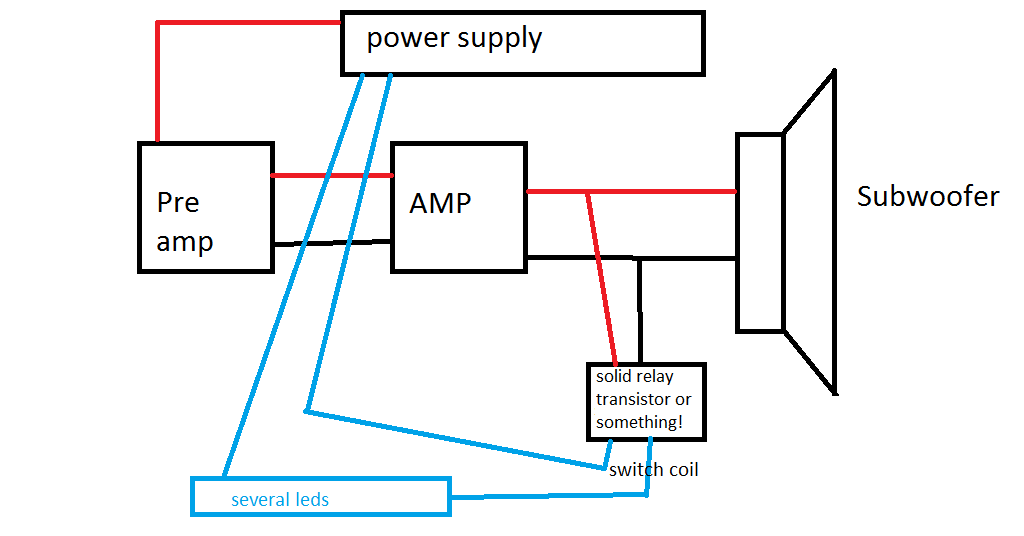 - I am making a subwoofer box for my room, which its specs are 8" 4ohm subwoofer feeding by about 100w.
- I put about 30 leds that lets say, they are directly connected to the power source 24V DC of course with their resistors, they are always OFF because I still have to work in a switch that switch them at the rhythm of the music.
- I initially thought using a tip31, with the base connected at the output of the "pre" amp, so now this tip31 will switch the leds that I mentioned. I am doubting about this idea (some people use it as a basic vumeter of single led) and yes, I need all my leds on/off at same time, not like those classic vumeters, I said that I although this is a good and basic idea, I think that this will low the quality and strenght that pre amp delivers to the line in of the amplifier, is not it?
- Then I thought that what if I take some signal from the ouput of the amplifier, there are lots of watts (100watts) can I simply connect there a solid state relay (3-30V) that will switch my led circuits? maybe I cannot connect the relay directly to the speaker terminals, but what about adding a resistor, or a ic7805, or I DONT KNOW, and thats the reason I am posting here.
- I also thought making a simple vumeter that triggers with an electrec micrphone, the idea is good enough I think, but theres a risk that leds turn on with external noises in the street or my room, which is undesired.
- I also thought adding a pre amp which has high output, so it can feed amplifier and trigger the tip31 without any effort, so the signal will be strong even with these components, I really dont want to do this, because the bluetooth amplifier board I am buying, already come with its pre amp, so its not convenient working in another pre amp, what I pointing is to take some signal from amplifier output, please tell me there is a way, I have seen passive vumeters where the leds are being turned on just by the amplifier output, I don want to feed all my leds from that energy, I simple want to use a little of that energy to simple trigger a switch, so the leds that are directly connected to the main power supply, can blink with the sound.
What would you recommend me ?