I hope you don't mind me sharing this with you..
As many on this forum may have noticed, I am nuts over vintage computing.... I have oodles of old computers namely Amiga, Atari, BBC and of course Spectrum's....
Way back in 82 I got one of these for £40... It was sporting 48k of ram.... WOW..... As programming seemed to flow in my blood it was ideal for me... My brother in law had the trusty BBC+ with opus disk drives ( snob ), but I had an old getto blaster to load my programs with.. A sticker placed on the bass treble and volume controls at the optimum position...
A good friend had a spectrum which, fortunately for me, fried... He sent me an interface 1 and two microdrives with oodles of games crammed onto several microdrive cartridges...
Ooohhh!! the speed was electric... Some programs loaded in seconds, as opposed to many minutes...
I learned so much from this little device... Mainly that the instruction set of the Z80 was identical to Intel's 8080... I had written several programs that actually ran on an Intel 8085 with little or no modification... Anywho! I digress..
I sold the machine and around 86 and got hold of a PC1512 and said goodbye to Spectrum..
I was a a car boot some years later and there were MANY spectrum's cast aside... Mainly 48k+ versions... It became apparent that as a family machine, they didn't last long.. One slip of the joystick interface and.......dead, dead as a door nail...
In amongst the many machines I caught a glance of a 128k... It was known in the spectrum circle as the "toastrack" this was because a massive heatsink was stuck on the end...
This was a brilliant find... The computer didn't have anything else with it, not even a PSU... So it was weeks before I could test it out.. Inside there is a very crass inverter circuit... It creates 12v to run the TV modulator and -5v to run the ram chips... A couple of Zetec's NPN's almost always blown.. So once I could test it and fix it, I could then look for the trusty interface1 and microdrives to store my programs. I still have this model.... It still runs as sweet as when I first fixed it...
I have since bought a boxed 48k +( I had to fix this too, all the ram chips and the ULA, which can still be found ) ...I have also bought two 48k ( early version, the same as first had ) both needed a little attention... But nowadays tapes are a bygone... MP3 players can spitout sound far better than the old tape players...
BUT!!! I still needed an interface 1... Ebay is littered with them, but they sell for an incredible amount... Microdrives are nearly always dead....
The ULA within the interface1 has been opened up and the files are now available to the general public... Several manufacturers have created CLPD's that mimic the interface in its entirety... Not only that they can go further... Apparently, Sir Clive, had designed a ZX network so the interface could chin wag with other Spectrum's..
I bought this..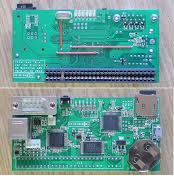 This has the power to run as the old interface 1, but instead of microdrives, a micro SD is used, the ZXnet is now a server that can be any PC.... If the PC is connected to the web, then so is the Spectrum... There is a site called "World of Spectrum" which is on the connect to list..
I basically have nearly every Spectrum game / utility ever made on 1 SD card.... AND I can access any other site to get the rest!!!
Here is my 48k with the new interface.. ( Incidentally I have modded all my Spectrum's to output to AV )..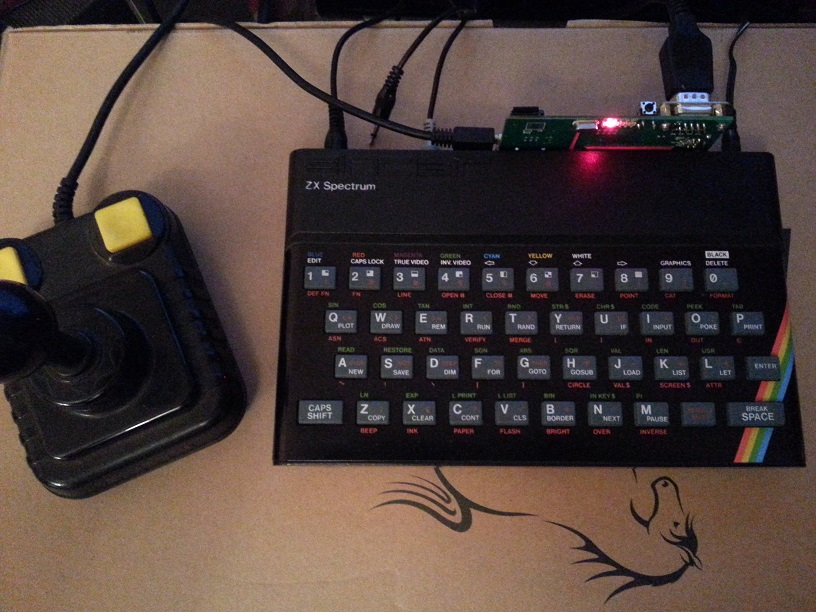 A rear view of the interface plugged in... As you can see.. Joystick connector, USB connector PS2 mouse connector and SD..
There is also a backup battery for the shadow rom operating system...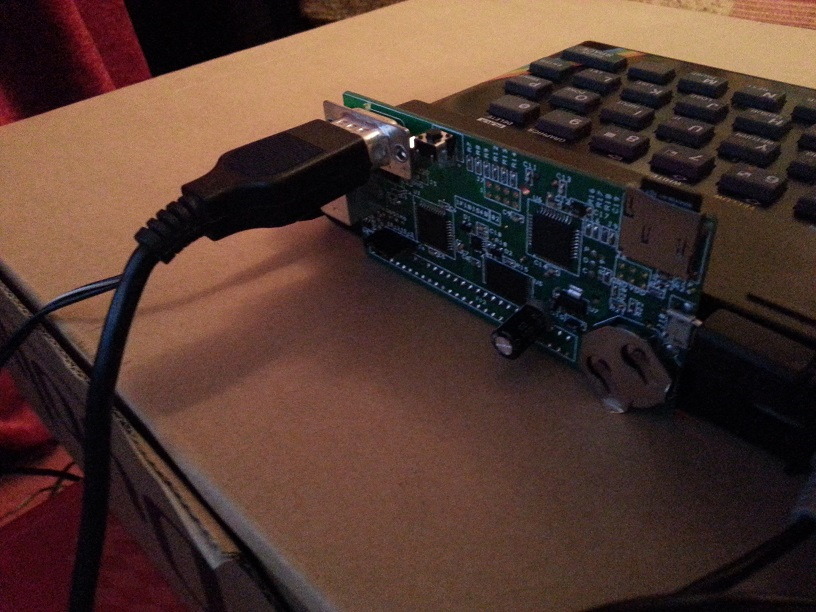 Spectrum boot screen.... Looks good on a 40" Sony..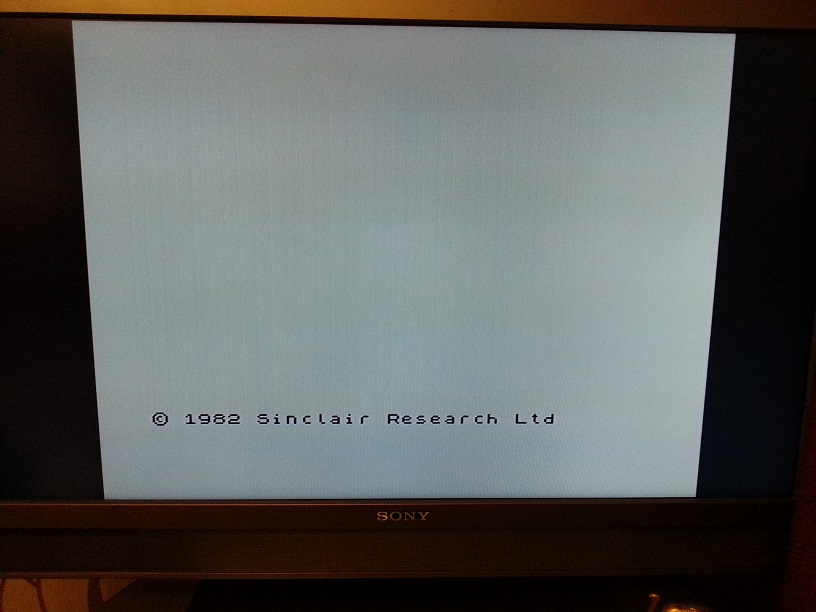 Select the interface1 rom ( quick button press ) and the loader menu is displayed...
Ooh! Look.... Drive 8.. page 4 of 8... Knightlore... One of my favorites..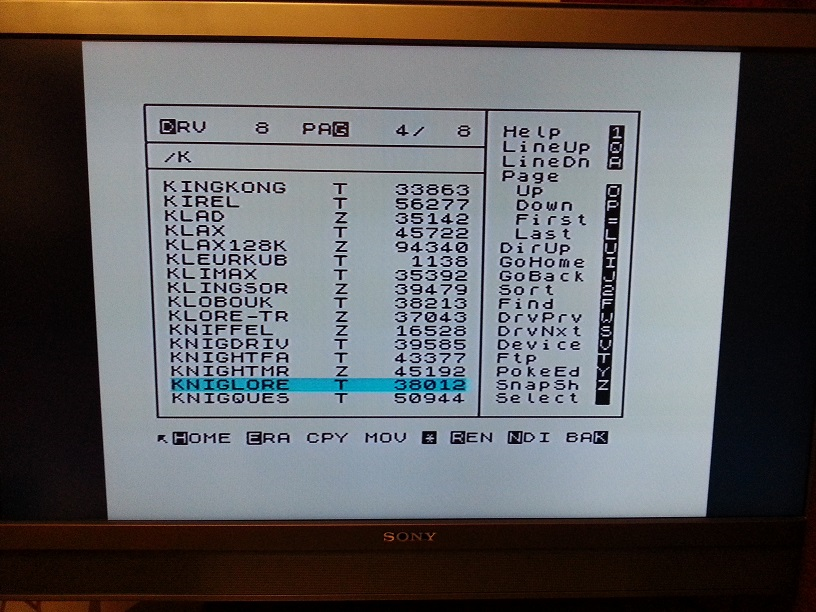 And finally Playing Knightlore....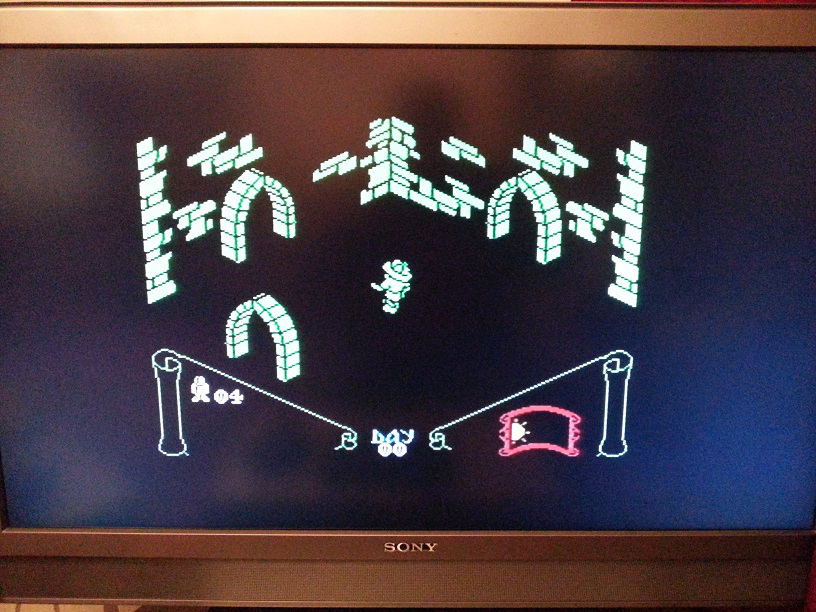 I hope I haven't bored you to tears, but this is sheer heaven to me... I have purchased another interface1bis for my 128k as there are quite a few 128k games on my SD...
Dan Antohi has done a really good job putting this together, and I thank him from the bottom of my heart... If anyone was thinking of messing around with old Spectrum's, well this device really get my thumbs up....
It seems to be an ongoing project but updating is fairly simple....
Thanks for listening....
Ian....