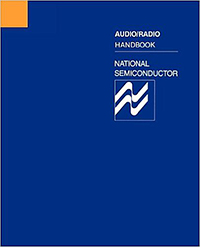 A few of us were reminiscing about the old blue National Semiconductor data books and application reports which were cram-packed with useful information, so I did a bit of silver surfing and discovered a veritable treasure trove of old data books, application reports, theory books, and electronic magazines. Maybe some of you would be interested in this archive too. The much sought-after, National Semiconductor, 'Audio/Radio Handbook' does not appear to be available on the net though.
spec
(1) National Semiconductor Data Books and Application Reports
http://archive.org/search.php?query=creator:"National Semiconductor"
(2) Collection of data books, magazines and books:
https://archive.org/details/folkscanomy_electronics?&sort=-downloads&page=5