Hi,
I need to connect the
ZTP-135SR
temperature sensor to a microprocessor
to measure the temperature of a surface without contact, holding the sensor at a fixed distance ...
attached is a diagram I found ...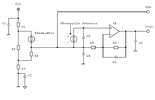 could you tell me the values of the components considering Vin = 5V?
Could the mass of C2 be that of the rest of the circuit?
thank you.