Hello fellows.
I own a CC2430 Micro-controller.
I'd like to implement an external RESET Button - A simple pull-up swtich, that is connected to the RESET_N pin of the MCU, and when pressed, it grounds the RESET_N pin.
My problem is that I'm afraid that spikes in the VDD of the swtich, will lower the voltage of the RESET_N pin, and therefore will create an unwanted External reset to the MCU, caused by that RESET_N pin.
(I should add that according to datasheet, the RESET_N pin needs to be pulled down to a minimum time of 250ns in order to completely reset the MCU).
Is there anyway for the MCU to know for how long the RESET_N pin's votlage was pulled down to ground?
Thank you.
Here is the switch circuit: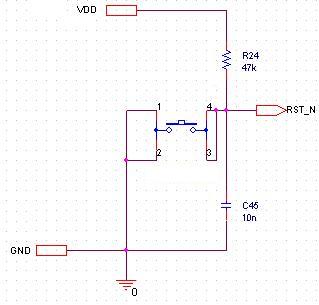 Last edited: