Hi,
I want to design a machine controller. This controller shall be used in an industrial environment. The controller consist out of one central control unit and one or more interface units. The power supply comes from a 400VAC to 24AC transformer. The communication between each unit is done over CAN Bus. Machines can communicate with each other as well via an additional CAN Bus. The separation is mainly done because of security reasons.
The central control unit is located inside a switch box together with a contractor or a contractor in star delta connection and a motor protection. The user can start the machine, make settings or can be notified of faults via buttons and an LCD display.
A CAN Bus goes from here to each interface unit. In addition the central unit has one relay to signal faults and one galvanic input contact for remote control.
The interface units get the power supplied from the central control unit. The central control unit and interface units are linked together with a 4 wire cable for CAN bus signal and for power supply.
An interface unit can have analog and digital inputs and outputs. The data is processed by a microcontroller and fetched by the central control unit.
Please take a look at my concept drawing.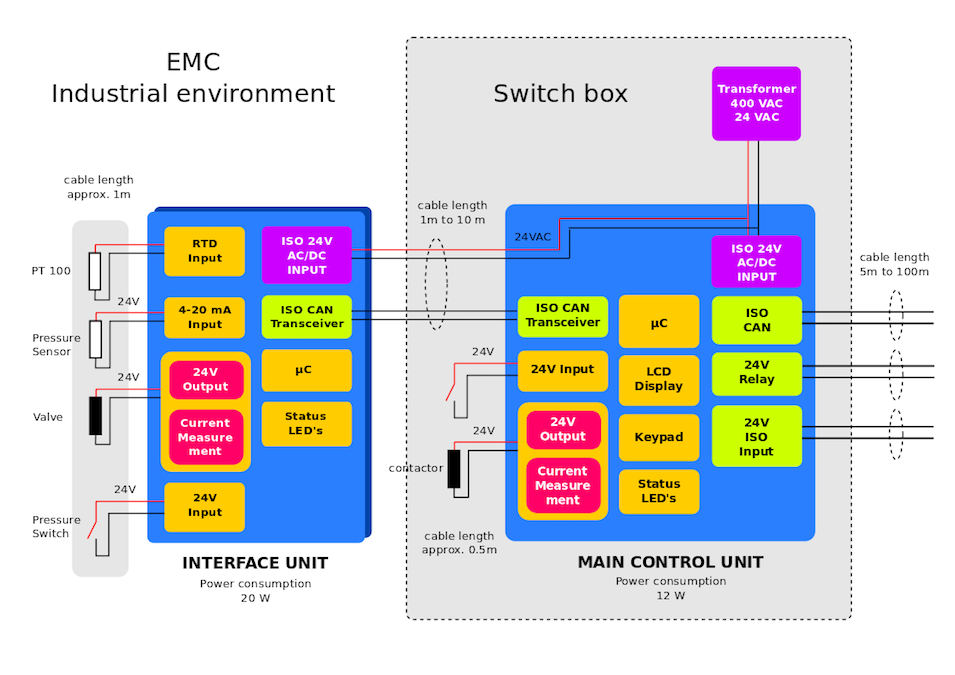 Due to the EMC environment, I thought of galvanically isolating the supply voltage and the CAN bus to the interface modules, since interference can couple in via the supply line and I also want to avoid ground loops.
During my research on the internet I found at miscellaneous IC manufacturers applications notes for PLC modules. There the connection of analog and digital inputs and outputs to the micro controller is often galvanically isolated.
Now to my questions:
Galvanic isolation
Is an expensive galvanic isolation of the inputs and outputs to the microcontroller necessary? The analog and digital inputs and outputs must of course be protected from transients. The same question arises for the central control unit.
Principally I would use a galvanic isolation if I need to connect circuits with different power supplies . Are there other reasons when a galvanic isolation should be used?
Power supply
What's the better approach? An AC/DC converter on the control unit that supplies the control unit and all interface modules with a DC voltage. Whereby the interface modules need DC/DC converters to realise the galvanic isolation. Or individual AC/DC converters for each module.
The advantage of AC/DC converters would be that the number of modules could easily be increased by changing and increasing the transformer. Especially as I would have less waste heat at the control unit, because I don't need such a powerful AC/DC converter.
Many thanks for the help.
Best regards
Paul