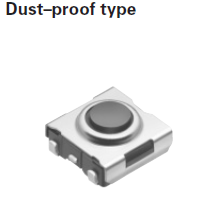 I have about 130 of these switches. They are SMT parts and are all new. Never used. But are loose. I hate holding a reel of stuff so i remove from tape and place in bag.
Mouser has them: ($0.41 for less than 100 qty)
SKHUBHE010 ALPS Tactile & Jog Switches
Datasheet:
http://www.electro-tech-online.com/custompdfs/2010/09/SKHUPDF.pdf
What you got to trade? or make a $$ offer. Either one is fine.
Forgot to note ... these are dust proof. I also added a image above.
Last edited: