I'd like to driver the following 1W,5V relay.
I'm not using a protection diode in parallel with the relay's coil since the MOSFET **broken link removed** has already a built-in avalanche rated diode across connected from D to S.
VTn = 1.2V (min) to 2V (max).
I want the voltage drop on the MOSFET to be minimal, therefore i need RDS to be minimal.
Could you please help me figure out what should be the values of RG1,RG2 in order to get RDS minimal?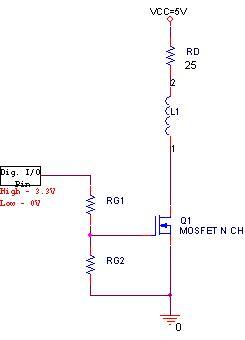 Last edited: