Hey,
I wanted to ask some things about these specifications.
1. the 1A version is rated 16A/250Vac.
Meaning that the contacts and armature can handle 16Arms and can be connected to 250Vac, right?
2. Why do they mention the Power factor in the rating?
if the Power factor is less than 1, it means that more than 16Arms current can go through the contacts for a given 250Vac?
3. What does it mean Max. switching power?
shouldn't it be 16A*250Vac*(cosPHI=1) instead of 2200VA?
4. What is the difference between electrical life and mechanical life?
Thanks a lot!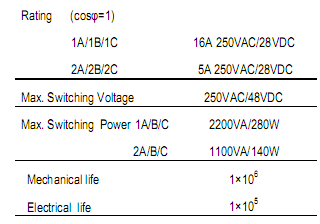 Last edited: