Hello everybody,
I am planning on making a motorized Pan/Tilt head to go on a camera jibcrane. My electronics knowledge isn't too well, so I'd wanted to ask all the amazing people here.
My plan was to use two 12volt DC motors, powered by a battery pack, to drive the axis, controlled by a joystick controller with speed and ramp (damping) controls, and power switch. (see picture below)
(so I do not need the tilt/pan direction and dead spot knobs.)
So basically I need the joystick left/right to control one axis moving both directions, and joystick up/down to control the other in both directions. The head should be able to move 360º, for which I think DC motors are better than servo's (right..?).
It will be wired from the controller to the head, so no need for wireless fun.
If you guys could give me a schematic and parts list for this specific build, it would be great! I'd love to have some sort of cable coming out the controller to power te motors, but that's a thing I could find out later.
Thank you guys in advance for helping me out, if you´d like more information, let me know!
Greetings,
Donny
Below are 2 pictures to give a general idea of the build I would like to make.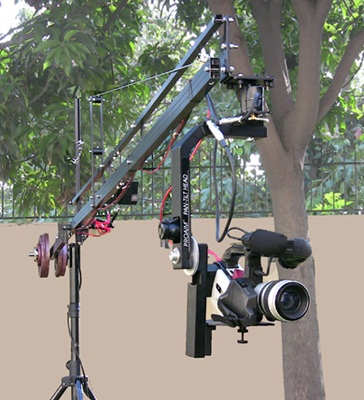 A jib crane with a pan-tilt head mounted at the end.
most common way of driving the axis.
Last edited: