Hello,
I'm the closest thing to an IT Tech/Engineer at a small community "leased-access" station. I need a dry latch relay setup that will work with the computer that plays our content. The goal is to provide our content to a different "entity" via IP stream, but when our local commercials run, a GPO trigger would latch the relay and the "entity" could insert their own commercials. At the end of the commercial break, the latch would be released and our content "appears" again.
I have a usb "multi-gpio" box from the system maker. It has 6 GPO slots and 2 GPI slots and connects to the computer via USB. I need a dry latch relay, and clearer instructions than a vague diagram on how to wire it.
Each slot on the GPIO Box has a Positive and Negative terminal.
I would prefer a relay that flips it's state every time it's triggered (if possible), to keep things simple in the programming of our playlist, with the need for just one GPO Trigger. If we need to use a relay that requires two different triggers, one to close the relay and a second to open it back up, then that's ok too, but that's where I get really confused because I cant mentally picture which wires should go where and why.
I've tried googling items and looking for them, but there is just so much info and so many different items, it gets very confusing fast.
If it helps, we use the RushWorks A-List Playout Automation software. I'll attach a picture of the GPIO Box.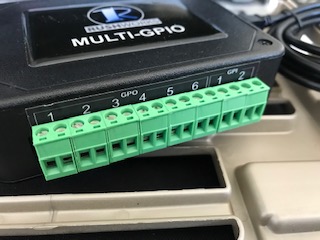 So, I need a link for a dry latch relay. Presumably, a link for the power source for the relay. and instruction on which wires get hooked to what inputs.
Thanks in advance.