Hey guys.
I've connected my microcontroller's (CC24300) RST_N pin to an active-low switch, so when I press the switch, it will HW reset the microcontroller.
The same switch also connected to a RST_N pin of a USB-to-UART chip,
CP2102
, so in that way both RST_N pins are connected, and both are connected together to the active lowswitch.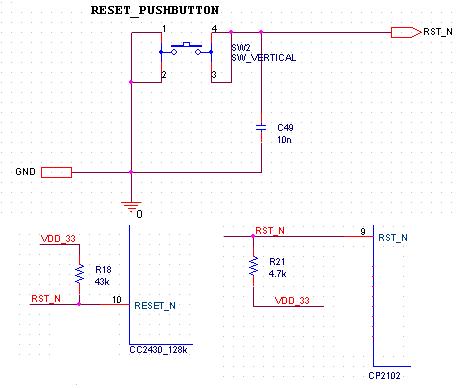 The problem that i'm facing is that every time I power-up the system, the MCU experiences a HW reset.
When I remove the CP2102 from the PCB, it doesnt happen.
Is it possible that the CP2102's RST_N pin is going LOW and then HIGH in each power-up of this device?
Further more, is it generally ok to connect two RST_N pins of two different devices to a single push button, or is it recommended to have each device its own reset button?
Thank you fellows.
Last edited: