Hi All,
I have a system of PLCs (which control a motor) that I am trying to protect from overcurrent / power surge. The associated motor runs on an 75VDC and has a conversion stage from 120VAC to 75VDC. The PLC CPU runs on 24 VDC so it also goes through a conversion from 120VAC to 24VDC. I am confused on where to put the circuit breaker for the PLC CPU on the 120VAC side or the 24VDC side.
The TDK Lambda converter says "24VDC/1.25A" on its face so I would assume those amps are derived from the 24VDC source? How many Amps AC would it be consuming? Does it matter which side the breaker is placed on (see image for locations 1 and 2)? Similar question for the motor as well, however I'm not as concerned since it the motor's internal converter is very advanced and has a lot of protection and will shut down as soon as it senses any problems.
The 24V TDK rectifier specs are
here
(DRB30-24-1).
A proposed 1A
breaker
for protecting the CPU (voltage rating says "240VAC / 48VDC, 1A"?
Or perhaps, both locations are appropriate? I just want to make sure I'm implementing this right, or if I am overthinking (I'm not an EE) ... Is protection even needed? Maybe that is also an appropriate question.
Thanks guys.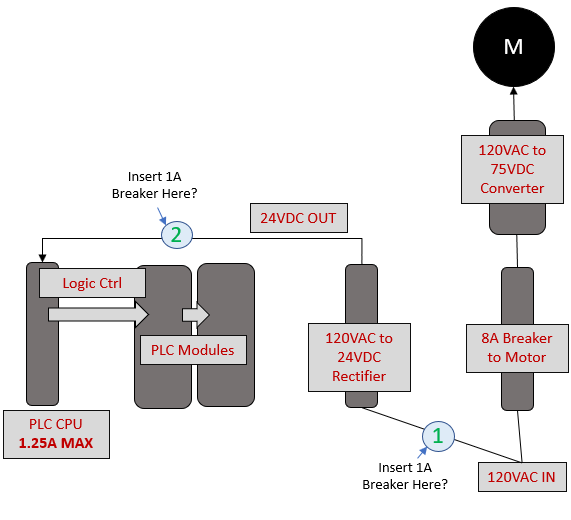 Last edited: